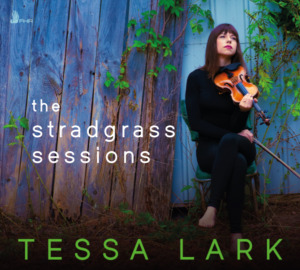 The Stradgrass Sessions
Tessa Lark violin
with Jon Batiste, Michael Cleveland, Sierra Hull and Edgar Meyer
First Hand Records FHR100
Lark collaborates again, this time with pianist Jon Batiste (b.1986), with their rhapsodic arrangement of Stephen Foster's (1826-1864) My Old Kentucky Home. After a bright, high piano opening and violin harmonics, the melody emerges almost spontaneously, and the resulting exploration is conversational, with rich, evocative chords on the piano, and fragments of melody creating the sense of distant memories. Batiste gives a luxurious jazzy solo, before Lark joins again with nostalgic melodic lines. After a disc so full of energy and show, this is a bravely intimate conclusion to a fabulous showcase of Lark's diverse talents.
Classical Notes, July 2023
* * * * *
Kentucky-born, classically trained violinist Tessa Lark's latest album is packed with some of the finest chamber grass music human ears are likely to encounter… Concerto Duo for Violin and Bass is a masterpiece of intricate interplay between Lark and Meyer. The recording of STOMP by American composer John Corigliano spotlights Lark's deft handling of the work's non-standard tuning, tricky time signatures and foot-stomping blend of blues, bluegrass and jazz. The deep grace flowing through Stephen Foster's American folk classic, My Old Kentucky Home, has perhaps never been more exquisitely expressed than in Lark and Batiste's rendition. The Stradgrass Sessions is a rare gem.
Doug Deloach, Songlines, June 2023
In her own Chasin' Skies, Sierra Hull duets with Lark with astonishing unanimity, and replacing one of the violins with mandolin in three of Bartók's duets works very well, especially in the pizzicato movement, drawing out the folk tradition underlying the music. … Lark's ability to blend with a variety of partners is at its strongest in Cleveland's Lazy Katie, where his fiddle and her Strad combine in purpose and texture. And the final improvisation with Jon Batiste on Foster's My Old Kentucky Home is wistful and charming.
Martin Cotton, BBC Music Magazine, June 2023
The album's highlight is Edgar Meyer's Concert Duo for violin and bass, for which Lark is joined in performance by the composer. It's a remarkable sound world, full of quiet, angular funk. The duo's rhythmic energy doesn't reveal itself too obviously, yet every musical line is tantalisingly animated. Meyer plays with glorious nimbleness, oscillating with ease between groan and ping. Lark is capricious, ecstatic then conversational, friendly then weird. She more than holds her own across the album. Her sound is bright, with no-nonsense attack and clarity of note. Sparing vibrato, combined with a gorgeously harmonic approach towards intonation, makes for a wonderful warmth on her Maggini of c1600.
Mark Seow, Gramophone, June 2023
---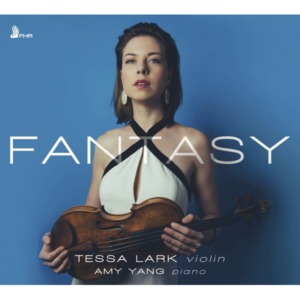 Fantasy
Fantasies by Telemann, Schubert, Kreisler, Ravel and Tessa Lark
with Amy Yang piano
…in the piece she composed, Appalachian Fantasy, the cultured, stylish classical violinist is revealed as — a fiddler. Everything on the disc is well played, but this quasi-folk music, which yields everything it's got at the first hearing, will make your heart sing with joy.
David Reznik, Fanfare, September/October 2020
… a stunning solo CD debut … ravishing tone and perfect style – and a simply dazzling and passionate performance of Ravel's Tzigane – Rhapsodie de concert. It's a recital of the highest caliber.
The WholeNote, December 2019/January 2020
This program reveals the versatility of the performers. I deeply loved the Kreisler, the energy and sparkle of the Telemann pieces, the gypsy spirit of the Ravel, and the sound and style of Yang's Schubert. This recording contains some of the best playing I have ever heard.
Ned Kellenberger, American Record Guide, December 2019
Lark and Amy Yang (piano) enjoy the playfulness here [Schubert Fantasie], and both instruments have alot to show off about in the challenging variations. Lark then follows the Schubert with a real treat – her own composition, Appalachian Fantasy, highlighting another side to her musical heritage as a traditional fiddler. With her violin retuned to produce the traditional open string double-stopping drones, she draws on the melody from the Schubert, as well as bringing in traditional Appalachian tunes … in a fabulously infectious demonstration of her phenomenal talent here. Ravel's Tzigane is a bravura showpiece for violin, although again, the piano part is not to be sniffed at, and Yang rises to its challenges well. Lark throws off the virtuosic gypsy flourishes with appropriate abandon, making this a lively and exuberant finish to the disc. All in all, this is a highly impressive calling card, amply demonstrating the range of Lark's talents.
Nick Boston, Classical Notes, November/December 2019
Tessa Lark includes three concise Fantasies by Telemann on her debut recital disc, each one a pithy sequence of linked sections. They're highly engaging and melodically rich. Especially the A major one, its six short movements lasting barely five minutes. I found myself bingeing on all three, repeatedly and with no ill effects… As a bonus, the Kentucky-born Lark throws in her own Appalachian Fantasy. Wittily recycling the same Schubert song which crops up in his Fantasie, Lark throws a couple of Appalachian folk tunes into the mix. The technical brilliance is worn lightly, Lark sounding just like a folk fiddler letting her hair down.
Graham Rickson, The Arts Desk, 23 November 2019
So now here is Fantasy, and it's every bit as strong as one would have expected. Conceptually, as the title suggests, it's a celebration of the flights-of-imagination, free-form composition known as the fantasy. Repertoire-wise, it's wide-ranging: four centuries, with Telemann at one end, and Lark's own Appalachian Fantasy of 2016 at the other. In fact those two offerings encapsulate Lark's qualities rather neatly: 'modern' Telemann readings whose lightness and dance quality feels as indebted to Lark's Bluegrass folk-fiddling roots as to her lightly worn historical awareness, and with their contrapuntal writing beautifully voiced. Then her Appalachian Fantasy, a superbly coloured, multifaceted folk medley vividly evoking the vast plains of her home turf, complete with an opening which also cleverly honours the previous Schubert Fantasie (which itself is played with immense sensitivity by her and Yang) by translating his song into Kentucky tongue. Add a strong Tzigane – equally in tune with her own folk roots – and I'm already looking forward to whatever Lark does next.
Charlotte Gardner, The Strad, December 2019
On the evidence of this musically engaging programme, violinist Tessa Lark has a canny ability to adjust her approach according to the stylistic dictates of whatever she's playing. Her own Kentucky grass roots sing out from her Appalachian Fantasy, a lively essay … played with a combination of spirit and technical brilliance. She's 'one hell of a fiddler'… Lark and Yang acquit themselves royally and the sound is… superb. Recommended.
Rob Cowan, Gramophone, December 2019
Her violin playing is meticulous with a silky sound… the selection of works is very well chosen and allows the expression of all Tessa's talents.
Classique HD, 23 October 2019
The CD concludes with one of the true warhorses in the repertoire, Ravel's Tzigane – Rhapsodie de concert, a fantasy in all but name. From the start of the initial solo-violin section, Lark produces that essential full gypsy-like singing tone, yet ever mindful of the composer's dynamic range, all delivered with impeccable intonation throughout… This performance alone must certainly be up there alongside some of the best available… For me, this CD ticks virtually every box – and more. It is not a random collection of pieces, but is clearly and logically structured. Even without Appalachian Fantasy there is already a good range of styles and mix of solo and duo works. Factor in Lark's own composition, and it becomes a real winner, with playing of the highest order from both artists, and immensely entertaining along the way.
Philip R Buttall, Music Web International, September 2019