The moment that I decided to leave my orchestra job, I wanted to focus mainly on playing chamber music and playing new music. Being a bassoonist you hear the phrase "there's not enough repertoire for the bassoon" too many times, even by colleagues. Even though I don't agree (it's just a matter of selecting the right pieces out of very many), I see it as a challenge to find the Mozart and Mahler of this time and commission them for new works. With my BBT funds and Susan Rivers' great commissioning experience, I felt like I got exactly the award that could help me with this ambition.
Although I found "my" composer for a bassoon concerto, Sebastian Fagerlund, quite quickly (thanks to Robert von Bahr from the BIS record label), I still made a sort of quest of meeting him for the first time. The best possibility to meet him turned out to be in the middle of my holiday plans with undefined destinations, so amongst other exotic destinations, I decided to withstand the temptation of another fantastic time-travel to springtime in New Zealand like I had last year. The destination was soon defined to Stockholm, and since I was determined to have cycling holidays, I took the relative cold for granted, and took my bike and tent on the plane to Gothenburg on the 20th of october.
From Gothenburg to Stockholm it would be 700 kilometers of cycling, avoiding the highways. My appointment with Sebastian and Rob Suff from BIS was on the 28th…  straight from the airport I cycled 60 kilometers full of optimism, but I have to admit it was a little colder then I expected and I found ice on my tent after the first night. The trip was beautiful though, and without problems, apart from a broken chain just when I was in the middle of the woods during sunset.
One of the most special meetings (apart from the one in Stockholm, and many meetings with deer in the woods that my iphone GPS software confidently sent me through) was in a hostel near Trosa that turned out to be a filmstudio, Lagnö Studios. The filmmaker and owner of the hostel was Per Carlesson, and he personally showed me his latest short movie: I believe 7 minutes, which was by far the longest in his career. I was very impressed and also amused by his short masterpieces, that was also very effective when it comes to the use of music.
I arrived 2 days early in Stockholm where I spent a nice time with my dear friend and double bass player Rick Stotijn.
Then finally I met with Sebastian and it turned out that Robert von Bahr had definitely recognized the preferences in music that we have in common. It was a very special afternoon.  We spoke a lot about music and art in general. I asked him what he thought about programme music, and I think we agreed on the point that it's often not very interesting to make music as "realistic" as possible. On the other hand I was curious what he would say about my idea that when music is abstract, it can be a shame when the listener has totally different asociations with the music then the composer. I gave him the following example about my experience that morning: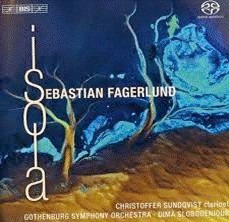 I was listening to his composition called Isola, on a CD of his music alongside the clarinet concerto. The clarinet concerto I loved immediately. The piece Isola I had listened only two times and had not felt the same strong connection to it that I had so immediately with the clarinet concerto: I found it more abstract and wanted to listen more often to see if I would understand it better. While I was listening again to Isola the morning of the meeting, I Iearned about the death of two ex-colleagues from the Rotterdam Philharmonic. This unexpected terrible news made me incredibly sad. I kept listening to the music and felt that this music was very much connected to mortality. I suddenly felt very intense about this music and it had a strange influence on my mood: on the one hand it intensified my sadness and on the other hand it had a comforting effect. I told Sebastian about this experience and I suggested that  this might be a typical example of different associations between composer and listener, because of course I didn't expect the background of that piece could actually have a connection to my feelings of that morning. Then he asked curiously "did you read the liner notes?" and I honestly told him I had not. Then he said: "I ask this, because this music is definitely based on the theme of death". "It 's about a very peaceful looking island where terrible deadly events had taken place in the past"…
Since then Sebastian and I have stayed in touch through a special webpage where I post recordings that might interest him, including the backgrounds that these pieces have for me.
Rob Suff from BIS joined us later the same day.  I was very impressed with the idealism of the BIS label that I could see in him and of course already had heard in many of their CDs. The concerto by Sebastian will be recorded for the BIS label in 2014/2015 and Rob had already interested a few orchestras in Scandinavia for performance of the new concerto. I flew back home, but it definitely felt just like the beginning of a new journey… so; to be continued!