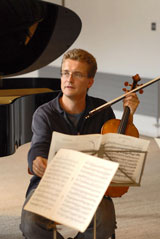 Press release date: May 2006
Christian Tetzlaff Leads BBT Tour
Aldeburgh, London, Brussels, Amsterdam, Hamburg, Vienna
30 September – 5 October 2006
Violinist Christian Tetzlaff has set new standards with his interpretations of the violin concertos of both classical/romantic and contemporary composers. He is also renowned for his championing of young musicians. As an Honorary Committee member of the prestigious Borletti-Buitoni Trust (BBT) he leads a three-day residency and a high profile European tour with five of BBT's recent award winners: percussionist Colin Currie, violinist Soovin Kim, cellist Christian Poltéra, mezzo-soprano Christianne Stotijn and pianist Shai Wosner.
Such a diverse ensemble makes for an eclectic programme: Tetzlaff takes up his violin alongside Poltéra for Arthur Honneger's Sonatine and with Soovin Kim for Bartok's Duos – then his viola in Dvorak's Piano Quartet in E flat Op 87 with Wosner, Kim and Poltéra. Stotijn, for whom Mahler is something of a signature this month of September sings songs from Des Knaben Wunderhorn (Rheinlegendchen, Wo die Schönen Trompeten blasen, Das irdische Leben, Urlicht) accompanied by Wosner, while Currie performs Trilogy, written for him by Dave Maric.
To bring all the musicians together, the Borletti-Buitoni Trust has specially commissioned a work by young British composer Richard Baker and acclaimed poet and librettist Lavinia Greenlaw, entitled Written on a train.
The Borletti-Buitoni Trust is now well known for the invaluable mentorship, experience, commitment and contacts it provides its award-winners. Award money is only part of the BBT package: this philanthropic support and the continued innovation of special projects and tours are what define BBT from other music foundations. Just as the BBT launch tour in 2004 gave the first award winners from 2003 the opportunity to work and tour with Mitsuko Uchida (BBT artistic committee and founding trustee), so these 2005 winners will benefit from their experience with Christian Tetzlaff. The inspirational setting of Aldeburgh and three days of collaboration and developing partnerships and friendships with fellow
BBT musicians is an important fulfilment of the Trust's aims.