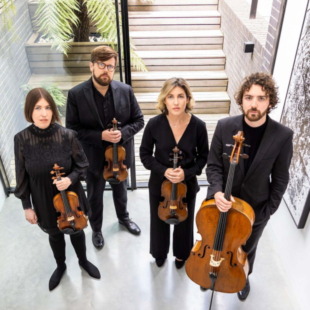 Press release date: September 2023
BBT PREMIÈRE
Awake is the title of a new chamber work, co-commissioned* by BBT, for the Castalian String Quartet from Mark Anthony Turnage to be world premiered at the Edinburgh International Festival this summer.
Beethoven's Kreutzer Sonata has been inspirationally represented in many works of music, art, drama and literature over the centuries and Turnage has also picked up the threads of passion and emotional turmoil connecting it to Tolstoy's novella of the same name and Janáček's first string quartet to inspire his own work for the Castalians.
For its EIF debut, the Castalian Quartet presents a contextual programme for the premiere of Awake, alongside Janáček's String Quartet No 1 'Kreutzer Sonata" and Beethoven's Quartet No 13 in B Flat Op 130 with Grosse Fugue Op 133 – both masterpieces of musical athleticism and moods of love and melancholy.
* with Cosman Keller Art and Music Trust
Watch our BBT Profile film about Awake here
Read the Press Release here
Castalian String Quartet at Edinburgh International Festival
Watch our BBT Commissioning film here