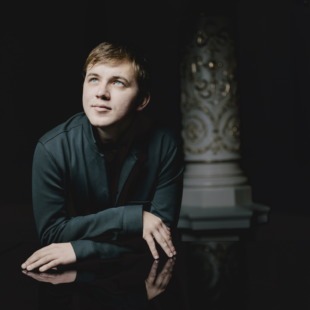 Press release date: October 2020
THE ART OF FUGUE EXPLORED
AN INTERPRETATION OF BACH'S FINAL WORK
BY FILIPPO GORINI
Nothing makes me as passionate as delving deep into a work of music, taking a long time to make sense of it, and then sharing what I have achieved with an audience. This is the heart of making music for me as a performer.
Filippo Gorini
Not one, but two venues, provide the launch pad for pianist Filippo Gorini's ambitious project exploring the poetry and intensity of Bach's late and incomplete work, The Art of Fugue, which will commence in the 2021/22 season. The 25-year-old Italian pianist will perform the work on 29 November as part of this year's Montréal Bach Festival, but it will actually be live-streamed from the atrium lobby of the monumental Mole Antonelliana in Turin (Italy's National Museum of Cinema), as  well as the Festival's new streaming platform Québec Baroque quebecbaroque.com.
The concert will be the first step of an extensive journey into the heart of this unfathomable work – a journey that will embrace live and digital formats so as to share Filippo's discoveries with the largest possible audience. He has already recorded his own interpretation of the piece (the session was also filmed, here Contrapunctus 11 a 4) for release on the award-winning label Alpha Classics in September 2021, leading into an international tour of live performances and lecture recitals.
For the digital presentation of the project Filippo is curating a documentary-style series of short films to shed new light on thematics suggested by The Art of Fugue in discussion with eminent minds in the fields of music, arts, cinema and sciences; these include, among others, architect Frank Gehry, artist Alexander Polzin, theatre director Peter Sellars, film director Alexander Sokurov and pianist Mitsuko Uchida. Along with an introductory film featuring Filippo himself, these will be directed and filmed by Robert Cibis at Oval Media (well-known for the award-winning documentary film Pianomania). Discussions are also well underway for a music film of The Art of Fugue in a contemporary art setting.
Gorini, who has been fascinated by this 'miracle of human creativity' since the age of 18, took full advantage of the Coronavirus lockdown to concentrate his study of the work, further broaden his ideas and channel his passion and energy into this project. He feels very strongly that masterworks of the past, such as this, are vitally connected to the present and future. The Art of Fugue merits constant exploration and delivers endless rewards to anyone willing to dedicate time and effort.
He comments, "In this project, all the forces that have meant most in my life come together organically; from my love of music – especially of counterpoint forms – to passions for art, architecture, mathematics and science. I am looking forward to making it a reality during the course of the next year and finally presenting it to the public."
The Art of Fugue Explored is entirely curated by Gorini, organised in consultation with Ute Fesquet and Keynote Artist Management and supported by the Borletti-Buitoni Trust, of which he was an Award winner earlier this year.
Born

1995 into a family of nuclear physicists

Awards

and prizes include include Borletti-Buitoni Trust Award 2020, Telekom-Beethoven Competition (First and Audience prizes) 2015, Neuhaus Competition Moscow 2013 (First prize)"Una Vita per la Musica -Giovani" of La Fenice Theatre, Young Euro Classic Award and Beethoven-Ring of Bonn

Concert

appearances include at Wigmore Hall London, Tonhalle Zurich, Meany Hall Seattle, Vancouver Playhouse, Berlin Konzerthaus, Hamburg Elbphilharmonie, Munich Herkulessaal, Società del Quartetto di Milano, Samsung Concert Hall Seoul

Orchestras

he has recently guested with include Mozarteum Orchester Salzburg, Ochestra Leonore, Sinfonieorchester Leichtenstein, among others

Debut performances

in 2021/22 season include Festival Bach Montreal, Concertgebouw Amsterdam and Marlboro Music School

Festival

appearances include Al Bustan Festival Lebanon, Cliburn Beethoven Festival, Naples Associazione Scarlatti, Accademia Filharmonica Romana, Ravello Festival, Ravenna Festival

Chamber music

collaborators include Steven Isserlis/Prussia Cove and Chamber Music Connects the World in Kronberg
Debut CD in 2017 on Alpha Classics of Beethoven's Diabelli Variations critically acclaimed with 5-star reviews in media including The Guardian, BBC Music Magazine, Le Monde and more plus Diapason d'Or Award

Contemporary

music also features prominently in his repertoire including performances of works by Stockhausen, Kurtág, Lachenmann, Gervasoni and Lanza in the past season alone. His main passions are the works of Bach, Beethoven and Schubert

Studies

with Maria Grazia Bellocchio and Pavel Gililov and is mentored by Alfred Brendel

Graduated

from scientific high school with a thesis on Godel's Incompleteness Theorems, then with honours in piano studies from the Donizetti Conservatory in Bergamo, followed by postgraduate course at the Mozarteum University in Salzburg

Photo credit

: Marco Borggreve
Montréal Bach Festival
Now in its 14th season following its establishment in 2005, Festival Bach Montréal has established itself as the premier North American destination for the performance of the works of Johann Sebastian Bach and his contemporaries. Consistently bringing together outstanding national and international artists, the festival now prides itself on being one of Montréal's most popular musical events, with an enthusiastic and loyal audience base. The 2019 edition of the festival attracted more than 20,000 people, with a further 1000 attending its new OffFestival Bach venue in downtown Montreal.
www.festivalbachmontreal.com