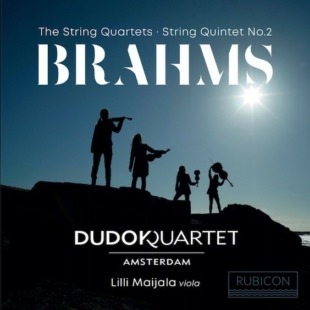 Press release date: July 2021
Dudok Quartet Amsterdam –
Brahms Reinvented
COMPLETE STRING QUARTETS & STRING QUINTET NO 2
THE FIRST COMPLETE RECORDING WITH A GUT STRING SET-UP
Rubicon Classics RCD1077 2-CD set
Release date October 2021
Dudok Quartet Amsterdam:
Every interpretation gives the work a renewed sense of understanding and perspective. There are no absolute truths in music, instead every performance has its own immediate truth.
For its debut release on Rubicon Classics the Dudok Quartet Amsterdam reinforces its personal commitment to constant reinvention by taking a new approach to the recording of these renowned works. This double album will be the first recording of Brahms' complete works for string quartet and string quintet No.2 (joined by violist Lilli Maijala) played on gut strings with early Romantic bows.
Always searching for new ways to vitalise their approach to music and communicate with their audiences, the Dudoks decided to explore these quartets with a pure gut-string set-up because these unwound strings replicate the sound Brahms would have known. This configuration also provided them with new sonorities and rhetorical possibilities that opened up their own experience of Brahms in a fresh and enlightened way, resulting in a unique rendition of these well-known and much recorded works. In the firm belief that as performers they need to share their renewed sense of understanding and perspective, this album is an invitation to listeners to join them on a very different encounter with Brahms' chamber music.
"We took a dive into 19th-century performance practice and embraced the liberties granted by a flexible tempo rubato and the use of portamenti," comments cellist David Faber, "and we experienced new dimensions in Brahms's music every time we submerged ourselves in it. So we want to encourage our audience to listen again and share the experience of finding new paths in his musical labyrinth."
Reinvention is at the heart of the Dudok Quartet's quest to make all music relevant in contemporary society. It is committed to crafting unique and eclectic programmes in order to engage with its audiences in adventurous and imaginative ways and reveal new connections in music. These include its own arrangements of music way off the beaten track and not originally intended for string quartet, as presented in Signature Sessions online. Here music of many different styles and eras, from Mingus to Messiaen, are transformed and complemented by the core string quartet repertoire. In the same vein the Quartet's critically acclaimed recordings have been notable for their eclectic groupings of composers within themes such as innovation, use of counterpoint, loss and loneliness.
As well as commissioning works and leading new projects, the Dudoks also initiate creative collaboration with a range of artists, inside and outside of the classical music genre (see notes below). They are currently on a mission to engage acclaimed authors to write essays with connections to music. The first published essay from renowned Dutch writer Jan Brokken is about Brahms' third and last string quartet – a fitting complement to the Dudok Quartet's Brahms album.
This Brahms recording and essay have been part-funded by the Quartet's 2018 Borletti-Buitoni Trust Award, which also supported its recent two-volume recording of Haydn's Opus 20 quartets and the making of the classical bows specially commissioned for it.
DUDOK QUARTET AMSTERDAM
dudokquartet.com
• Repertoire: ranges from Ligeti, Shostakovich and Weinberg to Mendelssohn, Mozart, Brahms and Beethoven. The Quartet constantly explores new pathways and connections in music. They regularly perform their own arrangements of pieces including Gesualdo, des Prez and Brahms.
• Collaboration: recent partners have included Pieter Wispelwey, Vladimir Mendelssohn, Hannes Minnaar, Erik Bosgraaf and Annelien Van Wauwe.
• Performances: major European venues and festivals including Vienna Konzerthaus, Beethoven Haus Bonn, De Doelen, Carinthischer Sommer Festival, Gergiev Festival, West Cork Chamber Music Festival, Festival Jeunes Talents, Festival Quatuors à Bordeaux and the Amsterdam String Quartet Biennale, as well as appearing regularly at Amsterdam Concertgebouw and Muziekgebouw. US debut January 2018 at Northwestern University Winter Chamber Music Festival, with future US plans including its New York debut at the Park Avenue Armory. Other highlights include engagements in Milan, Mantova, Utrecht, Rotterdam and Heidelberg String Quartet Festival.
• Recordings: In 2015 released first recording on Resonus Classics label. Métamorphoses explores theme of musical innovation through works by Ligeti, Haydn and Brahms and was awarded Editor's Choice in Gramophone, with the Quartet praised by The Guardian for its 'lithe, lively sound and alert sense of structure and detail'. Second highly acclaimed release, Labyrinth, explores the use of counterpoint in works by Mozart, Ligeti and Bach. The third, Solitude (2018), features works by Mendelssohn, Weinberg and Shostakovich curated around the theme of loss and loneliness – 'an intense listening experience that will have you on the edge of your seat' (The Strad). For the two-volume recording of Haydn's Opus 20 Quartets, the Dudoks researched instrumental set-up and commissioned classical bows (part-funded by the Borletti-Buitoni Trust award).
• Projects: include world premiere of Kaija Saariaho's opera Only the Sound Remains with Philippe Jaroussky and Dutch National Opera and a collaboration with director Rosabel Huguet re-imagining Beethoven's Op 132 String Quartet for children. Entitled "Quartet! A card game with Beethoven" the Quartet takes the project to venues including the Vienna Konzerthaus, Festspielhaus Baden-Baden, Flagey and De Doelen as part of its ongoing commitment to education and outreach work.
• Inception: First met as members of the Ricciotti Ensemble, a Dutch street symphony orchestra. Studied at the Hochschule für Musik in Cologne with the Alban Berg Quartet and later at the Dutch String Quartet Academy with Marc Danel of the Danel Quartet. Other important mentors include Eberhard Feltz, Peter Cropper (Lindsay Quartet), Luc-Marie Aguera (Quatuor Ysaÿe) and Stefan Metz.
• Name: the Quartet is named after celebrated Dutch architect Willem Marinus Dudok (1884-1974) who was from a musical family and also composed in his spare time; "I feel deeply the common core of music and architecture: after all, they both derive their value from the right proportions."
• Awards: 2018 Borletti-Buitoni Trust Award, Bordeaux International String Quartet Competition, Joseph Joachim International Chamber Music Competition Weimar and the prestigious Dutch Kersjes Prize (2014).
• Instruments: generously on loan from the Dutch Musical Instrument Foundation (NMF); violins by Francesco Goffriller and Vincenzo Panormo, viola by Jean Baptiste Lefèbvre (1760) and cello by Jean-Baptiste Vuillaume. Classical bows, made by Luis Emilio Rodríguez Carrington, were commissioned with the help of a private sponsor, Stichting Eigen Muziekinstrument, Kersjes Foundation and the Borletti-Buitoni Trust.
Jan Brokken writer
In a literary career spanning thirty years, Jan Brokken (b. 1949) has written books about a number of exotic and far-off places, including West Africa, the Dutch Caribbean, Indonesia and China, winning acclaim for his adventurous attitude and sensitive style. He gained international fame with The Rainbird, The Blind Passengers, My Little Madness, Baltic Souls, In the House of the Poet, The Reprisal and The Cossack Garden. He is renowned as a masterful storyteller. The New York Times praised his book Jungle Rudy (trs. Sam Garrett) on Rudy Truffino, who mapped the Venezuelan jungle, as 'a masterpiece of narrative non-fiction'. In the international press his work has been compared to that of Graham Greene and Bruce Chatwin.
www.letterenfonds.nl/en/author/38/jan-brokken
Photo credit: Merlijn Doomernik
Download a pdf version of this press release:
Dudok Quartet Amsterdam Brahms Reinvented Press Release