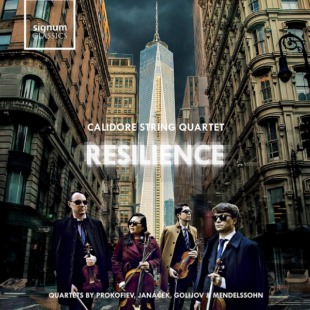 Press release date: October 2018
Debut Signum Classcis CD
Release date: 12 October 2018  SIGCD551
Sergei Prokofiev String Quartet No.2 in F major, Op.92 Kabardinian
Osvaldo Golijov Tenebrae
Leoš Janáček String Quartet No.1 Kreutzer Sonata
Felix Mendelssohn String Quartet No 6 in F minor, Op.80
"We offer our performances of quartets by Mendelssohn, Prokofiev, Golijov and Janáček as a message of hope because they illuminate the human potential to create beauty, even in the darkest of circumstances."
Calidore String Quartet
In a world of dissonance and conflict combined with omnipresent media reporting, the unrelenting noise of social and political discord seems to be ever increasing.  But the power of creativity inherent in music can provide balm and respite. This is the strong belief of the young players of the celebrated Calidore String Quartet and is their motivation for selecting this compelling repertoire for their debut CD, Resilience, on Signum Records.
The Calidore String Quartet is a multi-award-winning ensemble based in New York, already recognised as one of America's foremost quartets with a steadily growing reputation in Europe and the UK where it is currently part of the BBC New Generation Artists scheme and a recent winner of a Borletti-Buitoni Trust Fellowship.   The players wanted to find their own musical standpoint in the current environment of unrest and division, so they identified four masterworks from great composers who, whether in the midst of personal emotional turmoil or external conflict, seemed to find a cathartic path towards optimism through music.
In Mendelssohn's String Quartet op. 80, composed in the wake of his beloved sister's untimely death in 1847, the turbulence of grief and anger gives way to a sense of nostalgia and tenderness in the third movement to bring some sense of consolation. Janáček poured out his tumultuous feelings of unrequited love in his first string quartet based on Tolstoy's novella 'The Kreutzer Sonata', a narrative that reflected his own frustration at being trapped in a loveless marriage while hopelessly in love with a younger woman.
Argentine composer Golijov was inspired by two contrasting experiences  – one of violence in the Middle East and another of tranquillity in a planetarium – for his quartet Tenebrae, a study of conflict between the big-picture serenity of earth viewed from space and the close-up reality of pain and discord that troubles so much of the world. Decades before during the German army's destruction of his Soviet homeland in 1941, Prokofiev was evacuated to the Kabardino-Balkar Republic, where he found a degree of emotional respite by immersing himself in the Kabardino folk rhythms and melodies to create a new palette of textures and sounds for his second String Quartet.
The Calidore String Quartet's recording on Signum Records has been supported by the Borletti-Buitoni Trust.
CALIDORE STRING QUARTET
Jeffrey Myers  violin
Ryan Meehan  violin
Jeremy Berry  viola
Estelle Choi  cello
    
•    Formed in 2010 at the Colburn School of Music in Los Angeles and now based in New York. Its name is an amalgam of California, the 'Golden State', and doré, French for golden.
•    Its many awards include the Lincoln Center Emerging Artist Award 2017, Grand-Prize at the inaugural M-Prize International Chamber Music Competition 2016 (the largest prize for chamber music in the world at $100,000), Borletti-Buitoni Trust Fellowship 2016 and top prizes at virtually every major American chamber music competition including Fischoff, Coleman, Chesapeake and Yellow Springs as well as the 2012 ARD Munich International String Quartet Competition and Hamburg International Chamber Music Competition.  
•    Studied with Emerson Quartet, Quatuor Ebène, Andre Roy, Arnold Steinhardt, Gabor Takacs-Nagy and Günther Pichler among others.
•    Regularly performs throughout North America, Europe and Asia at venues such as Carnegie Hall, Lincoln Center, Wigmore Hall, Berlin Konzerthaus, Seoul's Kumho Arts Hall and many significant festivals including Verbier, Ravinia, Mostly Mozart, Music@Menlo, Rheingau, East Neuk and Festspiele Mecklenburg-Vorpommern.
•    Highlights of the 2017-18 season include debuts at the Kennedy Centre and in Boston, Philadelphia, Paris, Brussels, Cologne and Barcelona plus collaborations with its mentor, the Emerson Quartet and also cellist David Finckel, pianists Wu Han and Alessio Bax and violist Roberto Diaz. Other chamber music partners have included such luminaries as Jean-Yves Thibaudet, Joshua Bell, Paul Watkins, David Shifrin and Quatuor Ebène.
•    Performances have been broadcast on National Public Radio, BBC, Canadian and Korean Broadcasting Corporations, Bayerischer Rundfunk, Norddeutscher Rundfunk and German national television as part of a documentary produced by ARD public broadcasting.
•    Premiered works by Hannah Lash, Benjamin Dean Taylor and Pulitzer prizewinner Caroline Shaw.
•    Current residencies include Chamber Music Society of Lincoln Center's CMS Two programme and visiting guest artists at the University of Delaware.  From 2014-16 the Quartet was Artist in Residence at Stony Brook University in New York and is currently on the roster of BBC New Generation Artists. Previous residencies and masterclasses include those at Princeton, Stanford, University of Michigan, UCLA and Mercer University.
•    Recordings include a live concert of quartets by Tchaikovsky and Mendelssohn at the 2016 Music@Menlo Festival; Serenade: Music from the Great War (Hindemith, Milhaud, Stravinsky, Jacques de la Presle and Ernst Toch) on the Editions Hortus label, and quartets by Mendelssohn and Haydn.
"deep reserves of virtuosity and irrepressible dramatic instinct" New York Times
'balance of intellect and expression" Los Angeles Times
'the epitome of confidence and finesse" Gramophone