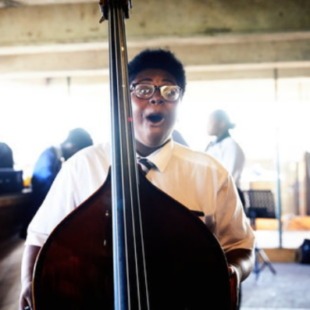 Press release date: September 2021
Kate Whitley World Premiere
Our Future In Your Hands
Kate Whitley and Laura Attridge
14 & 15 September 2021
Bold Tendencies Multi-Storey Car Park London
WHEN
Tuesday 14 and Wednesday 15 September 2021 7pm (duration 1 hour)
WHERE
Bold Tendencies 7th-10th Floors Multi-Storey Car Park 95a Rye Lane SE15 4ST
TICKETS
£5 / £10 + booking fee (tickets heavily subsidised by Multi-Story funders)
Our Future in Your Hands is a new work for orchestra, choir and three soloists created by award-winning young composer Kate Whitley together with poet and director Laura Attridge. Inspired by the seismic global youth movement against climate change championed by Greta Thunberg, it will be performed for the first time as a large-scale production on 14 September at Bold Tendencies in Peckham, London
The Multi-Story Orchestra (co-founded by Whitley with conductor Christopher Stark) comes together with a choir of 100 local pupils from Peckham schools and three soloists (Sarah-Jane Lewis soprano, Kate Howden mezzo-soprano, Darren Jeffery bass baritone) for this epic work which imagines the world recovering from climate change and being reborn in the future.
The young voices are divided into two choirs, one representing the voice of anger and protest and the other the voice of optimism and change for the future. The three soloists portray an astronaut, looking down to Earth from space and seeing the world as a whole for the first time, a man deciding whether or not to have a child, and a woman struggling to find water and survive in an apocalyptic future. Through their stories and the choir's protest songs, Our Future in Your Hands takes us on a journey from terror and destruction to imagining how the world could be if we survived and recovered.
Our Future In Your Hands was commissioned by the Buxton International Festival in collaboration with the Royal Over-Seas League and with support from the Borletti-Buitoni Trust. The Trust has assisted several of Kate's projects and commissions as part of her BBT Special Award 2014.
This production is a Genesis Kickstart Fund project, supported by the Genesis Foundation.
The Multi-Story Orchestra is grateful to the following funders for their support: Arts Council England, Borletti-Buitoni Trust, Genesis Foundation, PRS Foundation, Granada Foundation, Britten Pears Foundation, John and Susan Bowers Fund, Marchus Trust, Thistle Trust and Three Monkies Trust.
KATE WHITLEY composer & pianist
Based in south London
Awards include Critics Circle Award 2018, British Composers Award (2015), Borletti Buitoni Trust Special Award (2014), Sky Academy Arts Scholarship (2013)
Founder and Artistic Director of The Multi-Story Orchestra with conductor Christopher Stark.
Composes for concert, ballets, choirs and orchestras around the UK and her music has been broadcast as part of the BBC Proms
Residencies include 2013-4 Music Fellow at Rambert Dance Company (2013-14) and 2015 New Music Programmer at Kettles Yard Art Gallery (2015)
Notable works include Speak Out (words by Malala Yousafzai), commissioned by the BBC for International Women's Day 2017 (since performed by orchestras around the world) in support of the campaign for better education for girls; Alive (words by Holly McNish) and I am I say (words by Sabrina Mahfouz), both for children's choir and orchestra; Sky Dances, commissioned in 2018 by London Symphony Orchestra and performed in London's Trafalgar Square by an orchestra of over 100 conducted by Sir Simon Rattle
Recordings include I Am I Say (NMC) released in 2017. The album profiles her work as a composer and features a wide-ranging repertoire including piano miniatures, chamber works, a viola concerto and the choral work of the title
Laura Attridge is a writer and director who is fast becoming known for the richness and clarity of her storytelling. She is a published poet, and her songs and song cycles have premiered at the Royal Opera House, Glyndebourne, the Royal College of Music and Bard College (New York). Laura's ongoing creative partnership with composer Lewis Murphy – as duo Murphy & Attridge – has produced numerous works for the stage, including A Different Story (2019, Royal Opera House); Then to the elements (2018, Scottish Opera); Belongings (2017, Glyndebourne); and Now (2014, RCM and Tête-à-Tête Festival). Laura's upcoming premieres include new operas for Lammermuir Festival, English Touring Opera and Leeds Youth Opera.
Sarah-Jane Lewis is a multi-award-winning British soprano who graduated from the Royal College of Music in 2009 with First Class Honours and received her MA DipRAM in 2013 from the Royal Academy of Music. She completed her studies at the National Opera Studio in 2014 and is now a Jerwood Young Artist and also an Associate Young Artist at the Royal Opera House.
Sarah-Jane Lewis website
Australian mezzo-soprano Kate Howden studied at Trinity Laban, the Royal Academy of Music and the National Opera Studio and is an inaugural member of Hannigan's Equilibrium Artists mentorship scheme.
Kafe Howden website
Bass-baritone Darren Jeffery is as much in demand on the international opera stage as concert platform, singing roles in Handel and Wagner and more contemporary music from Britten to Birtwistle. He performs with many of the world's leading orchestras and conductors.
Darren Jeffery website
The Multi-Story Orchestra is more than just an orchestra. It is a community of professional musicians and young people who create extraordinary performances, tell stories, unleash creativity and perform in car parks and unexpected spaces. Together they bring powerful and meaningful music to life and believe that creating the best art means involving and valuing absolutely everybody. Since its first performance in Peckham ten years ago, the Orchestra has also performed in Gloucester, Birmingham, Ipswich and East Riding, and broadcast the first ever BBC Proms performance in a car park.
Multi-Story website
Bold Tendencies is a not for profit organisation based at the rooftop spaces at Peckham Multi-Storey Car Park and is unique in terms of the rich mix of what it does, and where and how it does it. For more than a decade Bold Tendencies has transformed its car park home with a programme of contemporary art, orchestral music (hosting the BBC Proms with The Multi-Story Orchestra in 2016 and 2017), opera and architectural projects including Frank's Café and the Straw Auditorium designed by Practice Architecture, Simon Whybray's pink staircase and Cooke Fawcett's Peckham Observatory. Bold Tendencies animates its programme and the site for schools, families and the neighbourhood through stand-alone education and community initiatives that take culture and civic values seriously. With immersive public spaces and spectacular views across London, the project has attracted more than 1.5 million visitors so far and celebrates the free enjoyment of public space in the city. In the autumn of 2017 Southwark Council ended years of uncertainty, confirming Bold Tendencies' future in the Car Park building with the offer of a new long-term lease.
Bold Tendencies website
What the critics say about:
Kate Whitley
a strong, distinctive voice who, without compromising, communicates directly to a wide audience, within the concert hall and beyond
Critics Circle
Alive
a remarkable feat
The Daily Telegraph
I am I say
It is darkened and deepened by complex but deftly organised instrumental textures that rise to an ecstatic climax… Capricious, yet cogent, Whitley's music has admirably user-friendly surfaces that conceal hidden intensities. We will hear much more of her.
Richard Morrison, The Times
This debut portrait album showcases Whitley, who is not yet 30, as a lush harmonist, an orchestrator who handles instruments boldly… and a melodist who isn't afraid of big rhapsodic elegies. The performances are direct and excellent.
Kate Molleson, The Guardian
a fresh and individual creative voice
BBC Music Magazine
make no mistake, Kate Whitley is a composer to watch
Gramophone
The Multi-Story Orchestra
They play heroically, they play loudly, and they'll play anything…The response was ecstatic, and it deserved to be
The New York Times
Forget fusty concert halls, the future of music is emerging in a municipal car park
The Times
Download a pdf of this press release KWofiyhBBTrlse