Italian Postcards
Wolf, Mozart, Nimrod Borenstein & Tchaikovsky (Avie)
The soaring tessitura of the initial impulse [Cieli d'Italia], sweetly harmonized and accompanied by plucked strings, evokes the clarity of Italian skies. The playful aspects turn to a more melancholy affect, agitated and featuring some impassioned riffs from the viola (Simone Gramaglia). The strong rhythmic shifts suggest a largesse in a rather compact piece, lasting seven minutes but packed with lyrically attractive and learned effects in a tonal style that maintain our attention… This entire disc comes highly recommended.
Gary Lemco, Audiophile Audition, 14 March 2021
Nimrod Borenstein's coruscating Cieli d'Italia and Tchaikovsky's intense Souvenir de Florence head up an absorbing programme.  The quartet perform with terrific elan.
Oliver Condy, BBC Music Magazine, March 2021
Supported by violist Ori Kam and cellist Eckart Runge, the Quartetto di Cremona ignites a rousing passion and energy. Be it in the opening Allegro, which sometimes seems like it is being played under high voltage and sounds a bit rougher and wilder than in other recordings, be it in the orchestral abundance of the Allegretto, or in the Adagio, in which the six strings unite in a ravishing indulgence. Smooth and full of vibrato in tone, but still far removed from any kitsch that you can otherwise experience on postcards.
Marcus Stäbler, Fono Forum, 3 February 2021
The Quartetto's close-set sound and intense engagement emphasise vibrant Russian colours over the neo-Classical elegance of Tchaikovsky's sextet… the Cremonese and their friends bring Florence to life in the here and now.
Peter Quantrill, The Strad, January 2021
…this quartet plays different instruments, which gives it its incomparably warm sound: pure gold for Tchaikovsky's Souvenir de Florence string sextet. The work by Nimrod Borenstein with the title Cieli d'Italia, which he wrote for the ensemble in 2019, is very luxurious and tonal, in the style of late romanticism – not far from Tchaikovsky. It depicts impressions of nature and celebrates the light of the south. Wonderful!
Matthias Roth, Klassic-CD, 17 December 2020
… overflowing with Mediterranean personality… their lissome ensemble is bracing and the carefree energy of their reading palpable.
Jonathan Blumhofer, The Arts Fuse, 2 December 2020
[That] excellent quartet, Quartetto di Cremona, has just released Italian Postcards (Avie): music by Wolf, Mozart, Borenstein and Tchaikovsky, played with zest and sparkle.
Fiona Maddocks, The Observer, 29 November 2020
An album for the ensemble's 20th anniversary that offers the highest level of listening pleasure!
Corina Kolbe, Rondomagazin.de, 28 November 2020
---
Beethoven Complete String Quartets (Audite)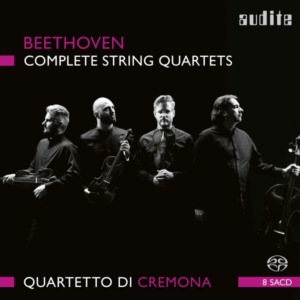 The group's Italianate grace comes into its own in this radiant music, with its lyrical opening, heartfelt Adagio, blithe Scherzo and fly-away Presto.
Fiona Maddocks, The Observer
…tremendously accomplished playing… compelling accounts.
Misha Donat, BBC Music Magazine
Beethoven's most experimental in the medium. The playing, as ever, is blisteringly detailed and right in your face: you can feel the grain of the music and actually hear the fierce tension of concentration through the players' breathing (part of it; not a distraction) … This gripping Cremona cycle goes from strength to strength.
The Herald
The Cremona Quartet completes its Beethoven series with a fine coupling, combining exemplary technique and intonational purity with an interpretive acuity that strips away 19th-century rhetoric while avoiding the pitfalls of sounding merely 'historically informed.'
Julian Haylock The Strad