Italian Postcards
Wolf, Mozart, Nimrod Borenstein & Tchaikovsky (Avie)
[That] excellent quartet, Quartetto di Cremona, has just released Italian Postcards (Avie): music by Wolf, Mozart, Borenstein and Tchaikovsky, played with zest and sparkle.
Fiona Maddocks, The Observer, 29 November 2020
An album for the ensemble's 20th anniversary that offers the highest level of listening pleasure!
Corina Kolbe, Rondomagazin.de, 28 November 2020
Beethoven Complete String Quartets (Audite)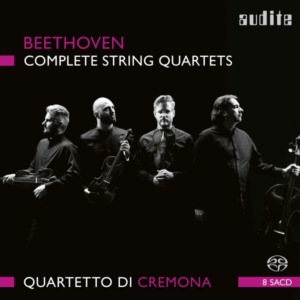 The group's Italianate grace comes into its own in this radiant music, with its lyrical opening, heartfelt Adagio, blithe Scherzo and fly-away Presto.
Fiona Maddocks, The Observer
…tremendously accomplished playing… compelling accounts.
Misha Donat, BBC Music Magazine
Beethoven's most experimental in the medium. The playing, as ever, is blisteringly detailed and right in your face: you can feel the grain of the music and actually hear the fierce tension of concentration through the players' breathing (part of it; not a distraction) … This gripping Cremona cycle goes from strength to strength.
The Herald
The Cremona Quartet completes its Beethoven series with a fine coupling, combining exemplary technique and intonational purity with an interpretive acuity that strips away 19th-century rhetoric while avoiding the pitfalls of sounding merely 'historically informed.'
Julian Haylock The Strad