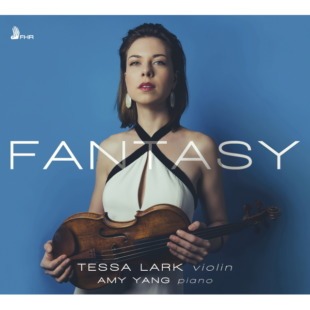 Press release date: July 2019
Fantasy
FANTASY IN MIND AND BLUEGRASS IN HER BLOOD KENTUCKY VIOLINIST TESSA LARK'S FIRST SOLO ALBUM
FIRST HAND RECORDS
FHR86 Release Date: 27 September 2019
Worldwide release on CD and all digital platforms
Georg Philipp Telemann Fantasie No. 1 in B-flat Major
Franz Schubert Fantasie in C Major, D. 934 *
Tessa Lark Appalachian Fantasy
Georg Philipp Telemann Fantasie No. 4 in D Major
Fritz Kreisler Viennese Rhapsodic Fantasietta *
Georg Philipp Telemann Fantasie No. 5 in A Major
Maurice Ravel Tzigane *
American violinist Tessa Lark has chosen a selection of some of her most cherished Fantasies and Rhapsodies for violin for the recording of her debut solo album, released on First Hand Records in September 2019.
* For the Schubert, Kreisler and Ravel she is joined by acclaimed pianist Amy Yang.
Born and raised in Kentucky, her first musical influences came from Bluegrass, Appalachian and other American Folk styles and have subsequently inspired her classical training, career and recital programming. The 'fantasy' genre in classical music, with its free-form composition unbound by traditional structures, immediately appealed to her fiddler's soul and improvisational leanings.
Conjuring up a world of make-believe and freedom, the musical form of 'fantasy' has existed for centuries. The earliest on this album are by Telemann (1681-1767) and the most recent is Tessa's own Appalachian Fantasy in which echoes of popular home state melodies such as Cumberland Gap and Bonaparte's Retreat mingle with a homage to Schubert's Fantasie in C Major featured on this disc. These works are often mercurial, spirited, pacey and highly virtuosic. The three of Telemann's are all differently conceived and testify to the composer's wide-ranging influences; Schubert's effectively represents his longest single movement, played without break although there are seven sections; Ravel's dancing Tzigane was composed after studying Liszt's Hungarian Rhapsodies and Paganini's 24 Caprices; and Kreisler's Viennese Rhapsodic Fantasietta sets up a nostalgic honey-toned waltz rhythm that escalates to a bravura finale.
The recording was made possible by a Fellowship from the Leonore Annenberg Arts Fellowship Fund and released by First Hand Records with the assistance of the Borletti-Buitoni Trust. For this recording Tessa played a 1683 ex-Gingold Stradivarius courtesy of the International Violin Competition of Indianapolis.
A rapidly rising international star in the classical realm, Tessa Lark is also a highly acclaimed fiddler in the tradition of her native Kentucky and, with BBT support, is also developing a project, Stradgrass, with multi-genre musicians such as legendary instrumentalist/composer Jon Batiste and the remarkable blind fiddler Michael Cleveland.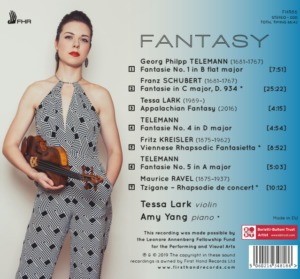 Audio excerpts

TESSA LARK violin
www.tessalark.com
Recipient of a 2018 Borletti-Buitoni Trust Fellowship and a 2016 Avery Fisher Career Grant, Silver Medalist in the International Violin Competition of Indianapolis, winner of the 2012 Naumburg International Violin Competition, Fellowship from the Leonore Annenberg Arts Fellowship Fund.
Since making her concerto debut with the Cincinnati Symphony Orchestra at 16, has appeared with dozens of orchestras, festivals, and recital venues including Carnegie Hall, Ravinia, San Francisco Performances, Amsterdam's Concertgebouw, Buffalo Philharmonic, Marlboro Music, Australia's Musica Viva festival and Seattle and Indianapolis Symphony orchestras. Scheduled for May 2020 is a Lincoln Center recital debut on its prestigious Great Performers Series.
Works written for her include Love Letter by bassist-composer Michael Thurber and Sky, a bluegrass-inspired concerto by Michael Torke premiered and recorded with the Albany (NY) Symphony Orchestra that is released in August 2019.
Other recordings include Invention, a debut album of the violin-bass duo Tessa Lark & Michael Thurber that comprises music of J.S. Bach along with non-classical original compositions.
Graduate of New England Conservatory with an Artist Diploma from The Juilliard School.
Plays a ca. 1600 G.P. Maggini violin on loan from an anonymous donor through the Stradivari Society of Chicago.