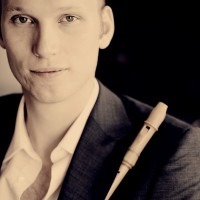 Press release date: September 2013
World Premiere of New Anna Meredith Work for BBT Award Winner Erik Bosgraaf
19 October 7.30pm Kings Place, London
The intricate Japanese art of origami is the starting point for a set of 'songs without words' created by Scottish composer Anna Meredith for maverick Dutch recorder player Erik Bosgraaf and members of the Aurora Orchestra.
Origami Songs is made up of five three­‐minute miniatures themed on the basic sets of folds that are the foundation for the classic origami forms. Bosgraaf, who has an extensive and varied collection of instruments, will play a different recorder for each song with various ensembles of Aurora musicians including strings, clarinet, trombone, percussion (at its most eclectic) and Mahan Esfahani (a fellow BBT musician and frequent musical partner) on harpsichord. 
The dexterous world of origami produces sharp­‐angled sculptures that are both fragile and robust with a classic portfolio of basic forms such as birds, kites and frogs – several of which will be referenced in these songs. While recognising Bosgraaf's acclaimed virtuosity, Meredith comments that her key focus is on his intense musicality and ability to bring to the fore the character and atmosphere of these individual miniature sound worlds. 
Origami Songs was commissioned by the Borletti­‐Buitoni Trust as one of the projects funded by Bosgraaf's 2009 BBT Award. Following the world premiere in London, it will also be performed with the Netherlands Chamber Orchestra in 2014. 
Hailed as one of the world's most gifted and versatile recorder players, Netherlands­‐born Erik Bosgraaf has a colourful past in a rock band and as an oboe player. He believes that good music is irrespective of style and feels equally at home  in early and contemporary music as well as commissioning new works including several concertos incorporating new media. His most recent soloist engagements include concerts with Dallas Symphony Orchestra/Jaap van Zweden and the Dutch Radio Chamber Philharmonic with Thierry Fischer.  His debut recording, a 3‐CD box with music by Dutch composer Jacob van Eyck, was number one in the Dutch classical music charts in 2007 and his CD/DVD 'Big Eye', including contemporary music for film, was hailed as 'wacky, irreverent and thought­‐provoking' (Gramophone). He has also made CDs of Telemann, Bach, Handel and Vivaldi and is a recipient of the highly prestigious Dutch Music Prize. www.erikbosgraaf.com
Anna Meredith is a composer and performer of both acoustic and electronic  music. Her work has been performed everywhere from the Last Night of the Proms to flashmob performances in the M6 Services, Latitude Festival to London Fashion Week, Huddersfield Contemporary Music Festival to the Ether Festival, and broadcast on BBC Radios 1, 3, 4 and 6. Residencies include with BBC Scottish and Sinfonia Viva and awards include the South Bank Show Breakthrough Award and Paul Hamlyn Award for Composers. www.annameredith.com