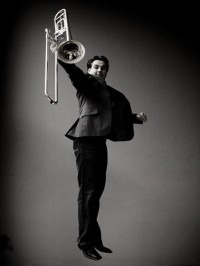 Press release date: January 2012
Three premieres March – May 2012
World premiere: 2 March 2012 Residentie Orkest/Santtu-Matias Rouvali, Schönbergzaal Koninklijke Conservatorium, Den Haag
Finnish premiere: 29 March 2012 Oulu Sinfonia/Anna-Maria Helsing, Madetoja Concert Hall, Oulu
UK premiere: 10 May 2012 BBC Symphony Orchestra/Alexander Vedernikov, Barbican, London
Dutch trombonist Jörgen van Rijen is avidly committed to broadening the repertoire for trombone as a solo instrument and has already premiered more than 15 works by composers including Theo Verbey, Martijn Padding and Jacob TV. He has personally commissioned Kalevi Aho with the remaining funds from his 2006 Borletti-Buitoni Trust Award.
Kalevi Aho is a prolific composer with a reputation that stretches far beyond his native Finland. Rouvali and Helsing, two young Finnish conductors developing remarkable international careers, conduct the first two performances of this new trombone concerto, while Bolshoi supremo Vedernikov conducts in London.
The relationship between composer and musician began two years ago in Amsterdam when they first met to discuss the commission. The resulting concerto comprises a traditional four movements and combines lyrical with very rhythmic, percussive sections. Aho explores the full scope of the trombone's capabilities and takes full advantage of van Rijen's formidable technique, requiring him to play both tenor and alto trombone. "There is a long chorale with double-tone playing and some complex manoeuvres with valve attachment tubing and double-tongue playing as well," comments van Rijen. "It's a very difficult piece technically – but that is very exciting for me, and hopefully the audience too."
As well as this new piece for van Rijen, four more of Kalevi Aho's new works will be world premiered this year, while the Swedish label BIS will be releasing four more CDs devoted to his music during 2012.