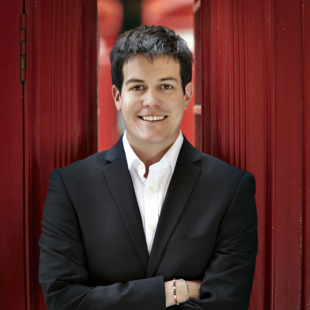 Press release date: September 2015
Baillieu commissions Muhly
Premiere: 4 December 2015 7.30pm Wigmore Hall, London
As part of his mission to bring the traditions of Lieder repertoire into the 21st century, James Baillieu has  put  his  BBT  Fellowship  funds  towards  a  new  commission from American  composer  Nico! Muhly for  piano  and  two  voices  – counter-tenor  Iestyn Davies and tenor Allan Clayton*. It will be premiered on 4 December 2015 at Wigmore Hall as part of Introducing James Baillieu, a season-long series of 11 concerts curated and led by James.
South  African-born  pianist  James  Baillieu  is  especially  known for  his  collaborative work with both instrumentalists and singers.   The idea for this project arose from his shared  friendship with Davies  and  Clayton whom  he  heard  some  years  ago performing Benjamin Britten's Abraham and Isaac:  "No obvious partner piece for the Britten seemed to exist. That's where the idea for a commission originated; I wanted to perform Britten together with something new."
Muhly  was an  obvious  choice  as  not  only  has  he  already  written  for  Davies  and Clayton, but he is also interested in creating atmospheric and dramatic works through a  profound  engagement  with  text  – in  this  case,  another  'mystery  play',  a  biblical story that will both complement and contrast the Britten.
Introducing James Baillieu runs throughout the season from September 2015 to July 2016 and  is  part  of  Wigmore  Hall's  dedication  to  nurturing  outstanding  song accompanists in line with its commitment to the Lieder art form's longRterm future.  Baillieu also performs with singers Henk Neven*, Anna Huntley, Sarah-Jane Brandon, Jonathan McGovern, Ailish Tynan, Johnny Hertford and Julian Prégardien, as well as flautist Adam Walker* cellist Alasdair Tait and the Heath Quartet*. 
In addition to co-commissioners BBT and Wigmore Hall, André Hoffmann/Foundation Hoffmann and a host of private donors have supported this commission.
* also BBT award winners