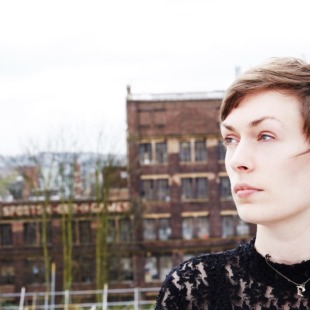 Press release date: February 2017
I AM I SAY Kate Whitley's NMC debut disc – Portrait of a Composer
NMC D229  Release Date 24 March 2017
The flourishing career of young British composer, pianist and musical entrepreneur Kate Whitley is further enhanced in 2017 with the release in March of her first CD, I Am I Say, profiling her work as a composer on the acclaimed NMC Debut Disc Series – plus premieres of her first children's opera and a BBC Radio 3 commission for International Women's Day.
I AM I SAY comprises a wide-ranging repertoire – from piano miniatures and chamber works to a concerto and the CD title track for children's choir and the Multi-Story Orchestra (which Kate co-founded in 2011 with conductor Christopher Stark). I Am I Say, with lyrics by poet Sabrina Mahfouz that imagine a world which 'beats with beauty' and cautions against human abuse of nature around us, is performed by soprano Sarah-Jane Lewis, bass Ashley Riches and a choir made up of children from three South London primary schools. The piece was performed as part of the Bold Tendencies programme in Peckham car park in summer 2016 and will be performed again live in June 2017 at the Aldeburgh Festival.
5 Piano Pieces (2014), recorded by pianist Rolf Hind, is written in a very personal, expressive style and is made up of five self-contained movements – declamatory, spacious, aggressive, sad and triumphant – each comprising repeated sections evoking a different and distinct mood.  
Kate plays in 3 Violin and Piano Pieces from 2013 with violinist Eloisa Fleur-Thom.  Tense and fragmentary in character, Kate acknowledges that it was initially inspired by Janácˇek's Violin Sonata, which she had performed with violinist Beatrice Philips who originally commissioned these works.
Viola concerto was Kate's first orchestral work, written for Shiry Rashkovsky when they were both students and boldly premiered in 2010 with an orchestra made up of friends and colleagues. It is performed for the recording by Rashkovsky and the Multi-Story Orchestra conducted by Christopher Stark.
 
The NMC recording is supported by funds from Kate's 2014 Borletti-Buitoni Trust Special Award.  She is already a significant part of several other NMC projects in 2017 that reflect her passionate commitment to broadening the scope and appeal of classical music amongst the uninitiated, especially the young.  As part of an educational initiative to bring contemporary classical music to the classroom, NMC launches a REMIX APP early in 2017 in which Metronomy's Olugbenga Adelekan takes Kate's music as a starting point for his specially devised remix.  And, as part of a GCSE Dance Resource project, Kate's composition, Duo, for violin and viola will also feature on an NMC CD being released in May 2017 featuring the works of Rambert Dance Company's Music Fellows (Kate's Rambert Fellowship was for 2013/14).
Important threads of Kate's creative career also interweave in early Spring 2017. It is young voices to the fore once more for the world premiere of a new work using text from Malala
Yousafzai's 2013 UN speech, commissioned by BBC Radio 3 for International Women's Day on 8 March to be performed by BBC National Orchestra of Wales and Chorus and a children's choir (and broadcast on Radio 3 at 21.30 the same evening). And Kate collaborates again with I Am I Say librettist Sabrina Mahfouz on Paws and Padlocks, a children's opera, which premieres at London's Blackheath Concert Halls on 8 & 9 April.
BIOGRAPHICAL NOTES
•    Kate Whitley (b. 1989) is a composer, pianist, and producer.
•    Awards include a 2015 British Composers Award, 2014 Borletti Buitoni Trust Special Award, 2013 Sky Academy Futures Fund Bursary for her work in bringing classical music out of the concert hall and into new contexts.
•    Co- founder and Artistic Director, with conductor Christopher Stark, of The Multi-Story Orchestra, which launched in 2011 with a critically acclaimed performance of Stravinsky's The Rite of Spring in the disused multi-storey Peckham Car Park in south east London to an audience of more than 1,500.
•    Music Fellow at Rambert Dance Company 2013-4.
•    New Music Programmer at Kettles Yard Art Gallery 2015
•    http://katewhitley.net/
•    Three short video podcasts featuring Kate in conversation about her work on the BBT website, including her performance of 5 Piano Pieces at Wilton's Music Hall: http://www.bbtrust.com/2014/special_awards/kate_whitley.html?view=video
    
'…a generation tainted by nothing except enthusiasm, daring, virtuosity and idealism is blazing onto the scene. Kate Whitley is typical of this bold new breed' The Times
'moving and beautifully performed…with a genuine emotional gravity… a remarkable feat' Daily Telegraph's  Ivan Hewett on Alive, Kate Whitley's first work for children's choir and orchestra