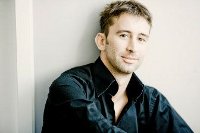 Press release date: March 2011
Every Song Tells a Story
16 April will be a big day for Dutch baritone Henk Neven: he will receive the coveted Dutch Music Prize at the De Doelen Hall in Rotterdam and also launch his debut recital CD, Auf Einer Burg, on the Onyx Classics label.
Neven joins a roster of acclaimed musicians and ensembles recorded by the highly regarded 'boutique' label, Onyx Classics (www.onyxclassics.com), whose reputation for creativity and quality results from artist-led recordings that are uniquely expressive and personal. Henk Neven has chosen songs by Carl Loewe that revive his own special childhood fantasies of fairy tales and mythical landscapes, plus the intensely beautiful love songs of Robert Schumann. He is accompanied by pianist Hans Eijsackers. The recordinghas been supported by the Borletti-Buitoni Trust as part of the fellowship awarded to Neven in 2009. The Trust is internationally recognized for assisting talented young musicians in the creative development of their careers, not just financially, but with a network of support and promotion.
The Dutch Music Prize ('Nederlandse Muziekprijs') is the highest honor that the Ministry of Culture can award to a classical musician and is awarded on the advice of the Dutch Music Prize Advisory Board, part of the Dutch Fund for the Performing Arts. Just as other recipients of this prestigious prize did, Henk Neven successfully followed a study path with the main emphasis being on the musical development of the artist. Candidates for the prize have the opportunity to train with the best musicians in the world. The Prize presentation concert at which Henk Neven performs is Bach's Kreuzstab Kantate BWV 56 with the Orkest van de Achttiende de Eeuw conducted by Frans Brüggen.
Henk Neven's personal comments on his chosen repertoire for Auf Einer Burg:
When I was a young boy, my parents would take me and my sister and brothers on holiday to Germany or France. We visited castles, churches and ruins. To me, this roaming around monuments was an enormously exciting activity. These time-ravaged buildings in surroundings of almost mythical allure fired my imagination and cast my mind back to times gone by. I wandered a world inhabited by fair maidens, knights and minstrels.
Years later, I heard Carl Loewe's Ballads. They brought a joy of recognition and reawakened my childhood fantasies. These ballads (not just the limited selection on this CD, but many songs from Loewe's extensive oeuvre) touch me because these fantasies are so vividly expressed, as if they were brief film scenes with dramatic twists. The singer cannot but become a storyteller, a minstrel: a grateful and challenging role that I am pleased to take on.
At the moment of writing, Loewe's songs and ballads look back into the past before making a long journey forward. Time ticks mercilessly on. 'Herr Oluf' extends his hand to his own mortality in the person of the Erl-king's daughter; 'Der Pilger' (Charles V) casts off his earthly splendour to die peacefully in a monastery; 'Die Uhr' faithfully accompanies the passing of our time; 'Der selt'ne Beter' is confronted with the limited time his beloved daughter has been given; in 'Süßes Begräbnis' the end of a young shepherdess is celebrated. Transience is everywhere.
What touches me is that, for Loewe and his poets, transience conveys not so much a gloomy or sad mood, but rather an enriching of the moment we live in. To me, this is the connection with Schumann's Liederkreis op.39. The cycle starts in a melancholic, nostalgic tone (Aus der Heimat hinter den Blitzen rot,/da kommen die Wolken her,/aber Vater und Mutter sind lange tot,/es kennt mich dort keiner mehr): a remarkable beginning for a cycle of love songs. I believe Schumann was able to write such intense love songs precisely because he was always aware of his limited time. That restriction ultimately brings its bonus in profundity.