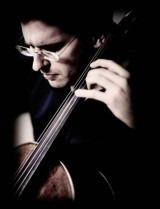 Press release date: June 2007
Christian Poltéra plays Arthur Honegger
Release Date: November 2007
BIS-CD-1617
Zürich-born cellist Christian Poltéra won his Borletti-Buitoni Trust Award in 2004 and has used his money to support a series of recordings with BIS featuring unfairly neglected works for cello by three Swiss composers Othmar Schoeck, Arthur Honegger and Frank Martin. Each CD features orchestral and chamber works.
For this second CD, of Arthur Honegger's music, Poltéra joins up with celebrated soloists Kathryn Stott – for the Sonata and Sonatina for Cello and Piano (both among the composers earliest chamber works) – and Christian Tetzlaff for the Sonatina for Violin and Cello (written ten years later when Honegger's international reputation was well established with his operatic, symphonic and film works). The Malmö Symphony Orchestra conducted by Tuomas Ollila accompanies Poltéra for the Cello Concerto, with its intense lyricism and overtones of jazz and blues.
The first CD of the series, Christian Poltéra plays Othmar Schoeck, released in May 2007, has received warm praise from UK and European critics. The last CD in the series – Christian Poltéra plays Frank Martin – will be released in February 08.
"Christian Poltéra is a fine, eloquent soloist."
(Andrew Clements, The Guardian 18.5.07 ref Christian Poltéra plays Othmar Schoeck)
See a short interview on film with Christian Poltera about these recordings on www.bbtrust.com/audio_video/
Press Contact for BIS:
Louise Francis at Select Music (for BIS) T. +44 (0)1737 645 600 E. lfrancis@selectmusic.co.uk