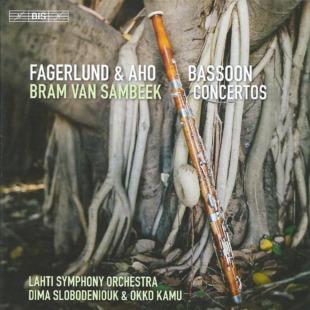 Press release date: April 2018
Bassoonist Bram is 'Concerto' winner at BBC Music Magazine Awards 2018
Sebastian Fagerlund: Bassoon Concerto Mana; Woodlands
Kalevi Aho: Bassoon Concerto; Solo V
Bram van Sambeek bassoon
Lahti Symphony Orchestra
Dima Slobodeniouk conductor (Aho)
Okko Kamu conductor (Fagerlund)
BIS2206 (hybrid CD/SACD)
    
Listen to extracts from the CD here
London 5 April 2018:
The Borletti-Buitoni Trust (BBT) congratulates Dutch bassoonist Bram van Sambeek on his 2018 BBC Music Magazine Award in the 'Concerto' category, for his debut recording on the BIS label of two bassoon concertos by Finnish composers Sebastian Fagerlund and Kalevi Aho.  
Bram commented: "I would like to thank Robert von Bahr at BIS and Susan Rivers at the Borletti-Buitoni Trust for bringing together the perfect circumstances to make this happen. It was a dream team of composers, orchestra, conductors, recording producers and every detail that is needed for such a project.  I have actually not often experienced this kind of special synergy – and the fact that it led to this wonderful recognition makes me really thrilled."
Having embarked on a career as a solo bassoonist, both commissioning and recording are important parts of Bram's quest to promote his passion for the versatility and expressivity of his instrument.  Fagerlund and Aho put the bassoonist very much to the fore of their concertos and push the instrument's and player's capabilities to the extreme. An element of the inspiration for 'Mana' came from Bram's version of Harlem Nocturne blues (featured on his Bassoon Kaleidoscope CD) and his ongoing quest to develop new techniques on the bassoon. He recently formed a new band O.R.B.I. (Oscillating Revenge of the Background Instruments) which is putting together a revolutionary rock CD for BIS Records. Bram will  also record for BIS the Mozart and Weber concertos with the Swedish Chamber Orchestra.
Both the commissioning of the Fagerlund concerto Mana and the recording were supported by BBT.  Bram has used remaining monies from his 2011 BBT Award to commission another concerto from Kalevi Aho  – for two bassoons – which will be premiered in 2019.
The annual BBC Music Magazine Awards are the only classical music awards in which the main categories are voted for by the public. A jury of expert critics selected this year's 21 nominees across seven categories from over 200 longlisted recordings reviewed in 2017 by BBC Music Magazine, the world's best-selling classical music monthly. Full details of the winners can be found at http://awards.classical-music.com and in the May issue of BBC Music Magazine.
Critical acclaim for the BIS CD of Fagerlund and Aho bassoon concertos:
"Bram van Sambeek takes everything in his evidently extensive stride.  The agility, conviction, impish humour and searing seriousness all stem from a remarkably rounded musicianship: talent and personality in abundance, but at the same time strongly focused."
Stephen Johnson, BBC Music Magazine, February 2017 *****
"Mana reveals once again [Fagerlund's] fertile and compelling musical intellect… While sounding taxing to play…its dedicatee Bram van Sambeek relishes its demands and is given wonderful support by the Lahti Symphony Orchestra… There is also a breathtakingly virtuoso account of Solo V (1999), the bassoon instalment in Aho's marvellous ongoing instrumental series.  Stunningly vivid sound throughout, as we expect from BIS."
Guy Rickards, Gramophone, February 2017
"Bram van Sambeek, our national bassoon hero, delivers on the BIS label a thrilling rendition of the [Aho's] bassoon concerto, a piece with exciting harmonic developments, a magnificent passacaglia and a sparkling final movement. "
Frits van der Waa, De Volkskrant, 9 December 2016
"Van Sambeek masters all these technical tricks… with immaculate and exemplary precision… Bram van Sambeek performs with intensely penetrating and, at the same time, effortlessly flexible playing."
Christoph Schlüren, Klassik Heute, 9 December 2016