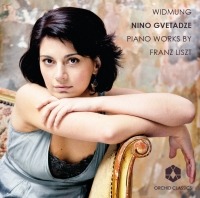 Press release date: August 2011
Nino Gvetadze – Gretchen am Spinnrade
Since winning the Liszt competition in Utrecht in 2008, Amsterdam-based Georgian
pianist Nino Gvetadze has been immersed in the composer's works. Her 2010 BBT
award realised her dream of not only recording Liszt, but also commissioning a
short film to highlight the release of her CD Widmung (Orchid Classics)
in the composer's bicentennial year. Graham Johnston's ethereal animation of
Gretchen am Spinnrade evokes the surging emotion and beauty of the
music with delicate line drawings that dance across the screen. Nino makes her
UK debut at the Cadogan Hall on 1 October with the Corinthian Chamber Orchestra
conducted by Paul Hoskins when she performs Chopin's Piano Concerto No.1.
Hear tracks from the Orchid Classics CD