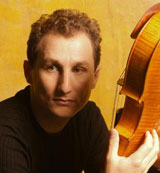 Press release date: February 2006
Antoine Tamestit CD Release
Antoine Tamestit
Bach Ligeti Chaconne
AMBROISE (AM 111 AD 098)
French violist Antoine Tamestit won his £20,000 Borletti-Buitoni Trust Award in 2006 and wasted no time in using it to support a longed-for series of recordings with Paris-based label Ambroise, in which he will explore the range of work
written and arranged for viola.
Bach and Ligeti both go to extremes in these virtuosic dance-themed pieces and have been juxtaposed in a single recording to reflect not only Tamestit's particular fondness for both pieces, but also his keenness not to be confined to any particular era of musical composition.
The CD is released in France, UK, Switzerland and Belgium on 26 Feb and in the US and other territories in March 2007.
Tamestit comments: "In the life of a young artist, the freedom and space for artistic inspiration and development are essential. The Borletti-Buitoni Trust's committee and staff is full of incredible personalities whose main goal is precisely to give this. They offer not only the financial support to help build one's dreams, but also the advice, encouragement, and practical means to realize them. Their help, although financially very important and meaningful, seems therefore priceless to me.
"It is a treasure for any artist. It gives us a rare opportunity to focus only on the artistic level of our goals, which therefore helps heighten our ideals. Personally, it gave me the freedom of choice for my future recordings, and the possibility, as a Viola player, to imagine the best possible and artistic way to create a series of recordings of my instrument, with the repertoire that touches me the most, and in a way that will reach the widest audience."