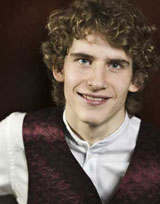 Press release date: April 2008
Andreas Brantelid – Wigmore Debut for Winning Cellist
The Borletti Buitoni Trust, EMI and all the major Scandinavian orchestras have already discovered the prodigious talent of 20-year old cellist Andreas Brantelid. Now it is the turn of British audiences: on June 28 when he makes his performance debut at London's Wigmore Hall and also on his EMI Debut series CD released later this year.
Brantelid will be accompanied by his frequent duo partner, the esteemed Swedish pianist Bengt Forsberg (no stranger to the Wigmore where he regularly plays with Anne Sofie von Otter), for a programme embracing works by Schubert, Fauré, Janácek and Franck:
Wigmore Hall Saturday 28 June 7.30pm
Schubert: Sonata in A minor, D.821 "Arpeggione"
Fauré: Sonata for Cello and Piano No 2 in G minor Op.117
Janácek: Fairy Tales (Pohádka) for Cello and Piano
Franck: Sonata in A Major
www.wigmore-hall.org.uk
Tel. 020 7935 2141
Tickets £10-£18
For one of such tender years, Brantelid has already clocked up a number of awards and achievements including first prizes in the Eurovision Young Musicians Competition (2006) and the Paulo International Cello Competition (2007) plus a Borletti-Buitoni Fellowship Award in 2008 and election as one of the ECHO Rising Star artists which will see him perform throughout the concert halls of Europe for the 2008/09 season. As well as his EMI Debut disc (cello concerti of Schumann, Tchaikovsky and Saint-Saens with the Danish National Radio Symphony Orchestra conducted by Michael Schønwandt). EMI will also release a second disc later in the year featuring Brantelid and Forsberg.