Commissioning new music is one of BBT's most creative and rewarding ways of helping young musicians and is an important theme in our 20th-anniversary celebrations in June 2023. This short film by BBT filmmaker Graham Johnston features archive footage of early interviews with pairings such as Kalevi Aho & Martin Fröst and Gavin Bryars & Ralph van Raat, to more recent conversations with the likes of Francisco Coll, Sebastian Fagerlund, Wim Henderickx and Kate Whitley. To date BBT has developed a portfolio of more than 50 commissions for over 30 BBT award-winners. The film will also be screened at Wigmore Hall as part of the BBT20 weekend. See below for music credits.
---
In celebrating 20 years of BBT Commissions we asked a few of our composers about how they write to commission, what inspires them and what hopes they have for their works. We came up with five Cs to ask about specifically:
Compulsion • Creativity • Collaboration • Courage • Continuance
Simon Holt
a table of noises for Colin Currie (premièred 2008)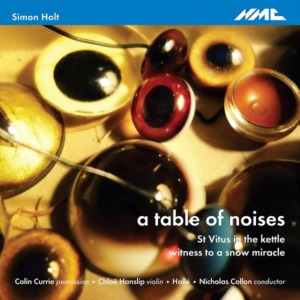 I had to search for the piece to find out how long ago it was that I wrote it! 15 years! I was very surprised. The writing process is mostly a mystery to me now, but the performances that I've seen (all with Colin Currie playing; nobody else has taken it up, which isn't a problem for me as I really feel that it's Colin's piece and probably always will be) have all been exceptional.
Colin and I were both very taken with the première above all. It was an extraordinary moment for both of us. Colin's parents were there and his mother, Elizabeth, particularly reported that 'I loved the ghosts', beaming from ear to ear: one of my favourite reactions to any of my pieces. Colin has, of course, recorded it with the Hallé and Nicolas Collon for NMC. I was very pleased with it and was present at the recording.
Working on the piece was a joy and Colin gave me carte blanche as regards the nature and subject matter of the piece, but I told him about the backstory of it and we got together so I could play him what there was at that stage of the writing (on the computer). I knew that I could be as virtuosic as was necessary and we spent a good three hours choosing the instruments for the table that he sits at during what I suppose is the cadenza. He told me that after I left that session he lay on the sofa and fell asleep, exhausted. It reminded me how percussionists have to be really adept at playing hundreds of radically different instruments and not just, for example, the violin or oboe as most musicians have to be. It's a special piece for me out of all my pieces and it felt, and still feels, like a privilege to have been asked by Colin to write it for him.
Read Colin's BBT blog about a table of noises here
Anna Meredith
Origami Songs for Erik Bosgraaf (premièred 2013)
For me it's normally the impulse of the commission itself which gets the ideas starting, considering any elements the piece might involve (duration, instrumentation, occasional etc) and then a collaborative process of looking for a good creative starting point.
I like to have a very clear idea of what I'm aiming for with each piece I write and a strong idea of what the character or identity will be. I think this is why I like shorter duration pieces so much as I can explore a single characteristic more directly. For Origami Songs I took five types for base folds used in origami as my starting point which then became five distinct movements
I hadn't written for recorder before so it was amazing to get to hear everything Erik can do. His encouragement and positivity about the material was fantastic and of course his huge technical and musical skill. I liked the challenge of working with the recorder for these pieces but still making it feel like 'me'. Of course, as a composer the thing you dread is working on a piece for months that's only played once and with no record of it. I'm happy that we've performed this piece again and I went on to make a different version of it with altered instrumentation which has been performed a few times too.
Erik Bosgraaf revives Origami Songs at London's Barbican Hall on 22 October 2023, with the BBC Symphony Orchestra and Ilan Volkov. Details and booking here
Kalevi Aho
Three Concertos, for…
Clarinet for Martin Fröst (premièred 2006)
Trombone for Jörgen von Rijen (premièred 2012)
Two Bassoons for Bram van Sambeek (premièred 2019)
An artist must have something to say with their works, to express how they experience time and the society where they are living. My compositions are never totally abstract; they are more like a conversation, one person to another. Of course, a great inspiration is often also the outstanding musicians for whom I am writing a piece. In my concertos I have also tried to find the 'soul' of the solo instrument.
Before beginning a new piece, I normally improvise with piano or violin until I find a good starting point. Many times, my pieces begin with a melodic motif, but also a chordal combination or a rhythmic figure can work as a good impetus. I never plan the form of the piece beforehand; my pieces grow organically from those initial ideas.
Collaboration is very important. Before starting a new concerto, I want first to meet the soloist, discuss with them and hear their instrument and about its possibilities. I want to write a new concertante piece so that it corresponds to the personality of the soloist. Before starting the Clarinet Concerto, Martin Fröst told me about the clarinet and gave me some ideas, which I used in the work. I travelled to Amsterdam to meet Jörgen van Rijen before working on the Trombone Concerto. Bram van Sambeek I had met already several times before writing the Double Bassoon Concert, He had previously performed almost my entire repertoire for bassoon. After finishing the piece, and after the soloist has studied it, I am happy to make any necessary changes.
Both working on a commission and with a particular artist offers often interesting new challenges. For example, if I have to write a piece for an instrument, which I don't know well, then I have to study very well the character and the technical possibilities of that instrument. Or, if I should write a piece for a very unusual instrumental ensemble – then you must be able to create new orchestration principles. I like those kind of challenges.
I am happy that most of my concertos have had several performances. Because the Swedish label BIS is recording my works on an ongoing basis, the pieces have also more possibilities to stay as a part of a living musical tradition. My most popular concerto is the percussion concerto Sieidi (originally for Colin Currie, though not a BBT commission) which has been played already about 100 times (with three different soloists). The Clarinet Concerto has had at least 23 performances (with four different soloists). After the première in Den Haag, Jörgen van Rijen has played the Trombone Concerto also in Finland, Belgium and Brazil. The Double Bassoon Concerto has been played in Poland, Belgium and Spain and new performances are coming soon in Canada and Iceland.
Read Bram van Sambeek's blog about the première of the Concerto for Two Bassoons here
Bent Sørensen
Easter Concerto for Tine Thing Helseth (premièred 2013)
When I moved some years ago to the countryside – an area with beautiful nature and lots of silence – a lot of the people visiting me said: "This must be very inspiring for you!". They didn't know what they were talking about, because that is not the way inspiration works. Inspiration is inside yourself; in an enigmatic way it is hidden inside you. If you as an artist, a composer, get inspired by views, nature, music, books, pictures, people etc, it is because of their conjunction with similar sources inside you, and they become explanations of your own sources. It melts together, and one could say that an artist only gets inspired by "things" that seems to be inspired by the art of the artist. I always look for inspiration – or – actually – look for things that can let the inspiration out of me.
When I look at my scores and when I listen to my music, I see and hear a daily life diary but I always get images of the inspiration I "used". When I think of the beginning of the Trumpet Concerto I wrote for Tine, I see… I imagine a dark wood – night darkness, and then I hear and see a trumpet coming out of that darkness. Tiny hunting fanfares meet the night and the shadows of the trees.
When I'm offered a commission, I start to think about how I could do it. There has to be something special about the new piece, and the older you get, it becomes more and more important only to write the pieces you really want to write.
In the case of the trumpet concerto a good friend of mine – a musician – said to me: "If you ever consider composing a Trumpet Concerto, think of Tine – she has the ability to make the trumpet sound so soft, that she could perform your music very well". I listened, and I loved what I heard, and when she later asked me, I gave her a "yes".
Collaboration has always been very important to me. When I compose a piece for a specific artist, I have a picture of them performing. In a way they become a part of all my inspiration sources.  I love to work with the same musicians again and again, since they seem to know my music almost better than myself, but it is just as important to open up and work with artists you have not worked with before and meet new languages. Let new artists be challenged by your music and let them challenge your ears.
Courage is always needed An artist is suddenly speaking your language, and you are learning the artist's language. That represents both a wonderful challenge and, even more, a gift.
I think the afterlife of a work is mostly up to others. I have written pieces that luckily enough have a long afterlife, but also pieces that died right after the birth. With the trumpet concerto I have been so lucky to hear Tine play it again and again, and it seems to me, that the piece in a way gets more and more mature that way, and I get a closer and closer relationship to the music.  I am happy that the collaboration with Tine created a friendship between the two of us, and I will hopefully one day write her another piece.
---
The commissions featured in the film are as follows, with sources for the audio used:
Kalevi Aho Clarinet Concerto
World premiere London 22 April 2006
excerpt iv movement Adagio, mesto
Martin Fröst clarinet · Lahti Symphony Orchestra · Osmo Vänskä
BIS SACD-1463
Dave Maric Lucid Intervals
World premiere Verbier Festival 2006
excerpt ii movement
Håkan Hardenberger trumpet · Colin Currie percussion
excerpt from recording session for Onyx CD 4024
Sebastian Fagerlund Bassoon Concerto 'Mana'
World premiere Lahti 6 December 2014
excerpt
Bram van Sambeek bassoon · Lahti Symphony Orchestra · Okko Kamu
BIS SACD-2206
Gavin Bryars Piano Concerto 'The Solway Canal'
World premiere Utrecht 19 February 2010
excerpt
Ralph van Raat piano · Netherlands Radio Chamber Philharmonic · Otto Tausk
Naxos 8.572570
Mark Simpson 'Darkness Moves'
BBT video premiere 25 October 2016
Mark Simpson clarinet
Bent Sørensen 'Easter Concerto'
World premiere Bergen 18, 19 & 20 September 2013
excerpt
Tine Thing Helseth trumpet · Bergen Philharmonic Orchestra · Andrew Manze
(Courtesy of NRK Norwegian Broadcasting Corporation)
Francisco Coll Piano Trio
World premiere Madrid 24 January 2022
excerpt UK premiere at the Aldeburgh Festival 25 June 2022
Trio Isimsiz piano trio
Kalevi Aho Trombone Concerto
World premiere Den Haag 2 March 2012
excerpt ii movement Presto
Jörgen van Rijen trombone · Antwerp Symphony Orchestra · Martyn Brabbins
BIS SACD-2196
Wim Henderickx 'Sutra' Concerto for Basset Clarinet, Electronics and Orchestra
World premiere Glasgow 31 March 2022
excerpt iv movement Samadhi: intense spiritual union
Annelien Van Wauwe basset clarinet · NDR Radiophilharmonie · Andrew Manze
Pentatone PTC5186973
Works referenced but not excerpted:
Kelly-Marie Murphy Triple Concerto 'When I Too Long Have Looked Upon Your Face'
World premiere Paris 18 February 2022
Trio Sōra piano trio
Huw Watkins Flute Concerto
World premiere London 23 February 2014
[a recording is available on NMC D224]
Kate Whitley Opera Oratorio 'Our Future in Your Hands'
World premiere London 14 & 15 September 2021
Detlev Glanert Double Piano Concerto
World premiere Glasgow 15 March 2008
Simon Crawford-Phillips and Philip Moore piano duo