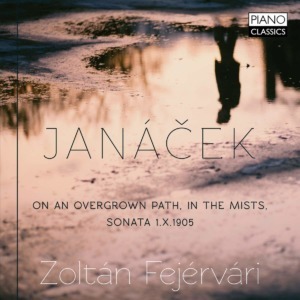 Janáček – Solo Piano Works
His new Piano Classics disc of the piano music of Leoš Janáček is the most sensitive and deeply probative recording of the Czech master I have heard… These deliciously understated performances reward repeated listening. I look forward to hearing more of the purity and imagination of Fejérvári's piano playing.
Patrick Rucker, Gramophone, August 2019
After its first performance, Janáček tried to destroy his "sonata", written in memory of a Czech patriot killed during protests in Brno in 1905. But the pianist Ludmila Tučková rescued two movements, played them to the composer in his old age and encouraged their publication. It's an idiosyncratic work, and the second movement, Death, aches with sadness. The two collections of shorter pieces are idiomatically played by this young Hungarian.
Hugh Canning, Sunday Times, 2 June 2019