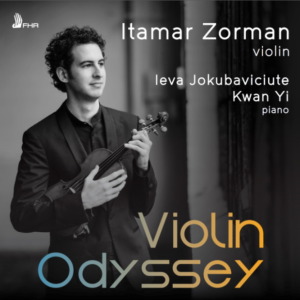 Violin Odyssey
Itamar Zorman violin
Ieva Jokubaviciute piano
Kwan Yi piano
First Hand Records FHR119
Violinistic byways brought to life with elan in this lockdown project… One of the three focal points is the set of eight movements adapted for violin and piano by Heifetz from The Children's Suite for solo piano by Russian-born US émigré composer Joseph Achron. Zorman captures a folk flavour and simple innocence redolent of Bartók's Six Romanian Dances.
Edward Bhesania, The Strad, August 2022
None of these pieces are everyday fare, yet Itamar Zorman… and his two distinguished pianist-partners, Ieva Jokubaviciute and Kwan Yi, play with such spontaneously intuitive flair and eloquence that they emerge sounding like bread-and-butter repertoire.
Julian Haylock, BBC Music Magazine, August 2022
I wholeheartedly concur with the impetus for this disc. One must regret the extent to which so many composers' music is hardly known. Here is another demonstration that such people's writing should be out in the world for all to hear. I also admire Itamar Zorman's wonderfully evocative tone and skill, highlighted throughout the disc. He is more than ably accompanied by two wonderful pianists. They have produced a disc of really interesting and tuneful music that should spark interest in several lesser-known composers, so I say congratulations on a job well done!
Steve Arloff, Music Web International, July 2022
…a wide-ranging and entertainingly varied programme… Documentation here is first class and includes music examples and a reproduction of a relevant Revueltas manuscript. With a fine recording balance, too, this is a trip worth taking.
Jonathan Woolf, Music Web International, 14 June 2022
…the sonata [Schulhoff's 2nd] is well worth hearing, with a slow movement that reaches deep into the emotions and dark into concurrent social undercurrents. Zorman's imaginative fillers include a 1917 sonata by the Croatian Dora Pejačevic, Heifetz cuts from a suite by Joseph Achron and a moody snooze by William Grant Still. Go for it.
Norman Lebrecht, Ludwigvan, June 2022
a masterful young violinist from Israel who now teaches at the Eastman School of Music, Itamar Zorman, …goes on what he calls a Violin Odyssey, trying to find in many distant lands particularly remarkable pieces from the year 1900 onward. His taste is faultless: each piece quickly endeared itself to me…
Throughout this adventuresome journey, Itamar Zorman… plays with total command and subtle variety. Zorman gets first-rate support from his pianists: Kwan Yi in three pieces (Achron, Osman, Schulhoff) and Ieva Jokubaviciute in the rest.
Ralph P Locke, The Arts Fuse, 5 June 2022
Here, composers from literally the whole globe mingle: Gareth Farr from New Zealand, Gao Ping from China and Ali Osman from Sudan with dead Europeans like Grazyna Bacewicz and Dora Pejacevic… [I]t's always interesting to hear what Zorman has been listening to… This is the violinist as an actor, constantly presenting new ideas… where all music must be equally important regardless of who wrote it and for whom it was written – it is the variety, and a friendly desire for openness which is the point.
Hanna Höglund, Sydsvenska Dagbladet, 3 June 2022
Pejačević's Sonata for Violin and Piano No 2 is a ferociously powerful and spectacularly demanding work written in 1917. In this Sonata Zorman's virtuosity dazzles as he flies through furiously fast passages, never once losing his commitment to the work's emotional intensity.After an impassioned series of high energy recordings, the album closes with Summerland by William Grant Still. This work contrasts the majority of the album by showcasing a much gentler side to Zorman's sound. Summerland is reflective and calm, transporting the listener to a world with much more peace and clarity. You can not help but wonder if this closing piece is in fact a reflection of Zorman's hope for the future during what was an incredibly uncertain and turbulent time.
Rosie Olver, The Cusp, 28 April 2022
---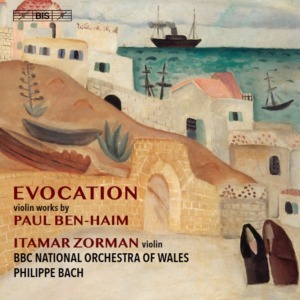 Evocation Violin Works by Paul Ben-Haim
with BBC National Orchestra of Wales
Philippe Bach conductor
Amy Yang piano
The one constant throughout this entire collection is violinist Itamar Zorman, who performs all of this music with passion and excellence… This is a very enjoyable collection of music from a lesser-known composer.
Mark Novak, Fanfare, September/October 2019
* * * * The most important work here is the Concerto, which was also successfully recorded by Itzhak Perlman (EMI) back in the early 90s. However, it is replaced here in an equally fine performance in BIS's very fine SACD sound, and rounded out with the remainder of the composer's catalogue for the instrument. Zorman, a Tchaikovsky laureate, provides captivating performances throughout the disc, consolidating his position as advocate for the under-heard Ben-Haim.
Brett Allen-Bayes, Limelight Magazine, 15 July 2019
This project has obviously been a labour of love for Itamar Zorman, whose playing – on a 1734 Guarneri 'del Jesu' – is technically impeccable. Zorman is attentive to the music's humorous moments – say, in the Ballad from Songs Without Words – but also achieves great expressive heights, while being always conscious of a piece's larger shape. … A rousing Toccata, skilfully arranged from a piano showpiece, brings this rewarding recital to its exciting close.
Carlos Maria Solare, The Strad, June 2019
Evocation (1941) is the highlight here. The gently undulating introductory pages set the tone for the soloist's wistful main theme, its elegiac contours complemented by limpid harp – and woodwind – writing in the agitated central section, before a heightened resumption of earlier music brings a lithe cadenza and regretful close. Itamar Zorman offers committed advocacy here and in the Violin Concerto (1960).
Richard Whitehouse, Gramophone, June 2019
A peach of a work [Evocation] reflective but troubled, it's the earliest piece in this rewarding collection of works … Zorman retraces Ben-Haim's musical journey with plenty of technical panache, passion and colour.
Geoff Brown, BBC Music Magazine, June 2019
This compilation of violin works, compellingly performed by Itamar Zorman with the BBC National Orchestra of Wales on a Swedish label, yields in its title track something verging on revelation… You will not meet many unheard concertos [Yizkor – Evocation] of such wistful and appealing qualities, passionately evoked by an emphatic soloist… Zorman fills out the album with pieces for violin and piano, and violin solo. I don't think I've ever heard a warmer or more enjoyable Ben-Haim program.
Norman Lebrecht's Lebrecht Listens, Ludwig Van Toronto, 26 April 2019
The young Israeli violinist Itamar Zorman (born in 1985) attends to all these works with the utmost conviction, shining with a clear, always expressive tone… Technically, of course, this is completely flawless, which is immediately evident, especially in the cadenzas and etudes. Both in the Swiss Philippe Bach – currently GMD at the Meininger Staatstheater – and in the pianist Amy Yang, he seems to have found ideal partners for this sensitive, never intrusive music.
Martin Blaumeiser, Klassik Heute, 14 April 2019
Itamar Zorman is the soloist and this, not his first release, is a major statement in his career. Zorman previously released a violin and piano album with more conventional repertoire but this is his first release playing with an orchestra. Having demonstrated his facility with the conventional repertoire he seems to be blazing a path beyond.
New Music Buff,  April 2019
Zorman's technique in performing those studies [Three Studies for Solo Violin] is impressive, as it is over the course of the entire album.
Stephen Smoliar, The Rehearsal Room, April 2019
Three Studies for Solo Violin (1981), written for Yehudi Menuhin [are] the outstanding works on this disc, titled Evocation (BIS). It's superbly played by the young violinist Itamar Zorman.
Fiona Maddocks, The Observer, 31 March 2019
…with Zorman's fiery playing, one soon warms to this 'un-kitsch', neoclassical music, where the most fragile piece is the violin concerto's second movement. Think Itzhak Perlman sound in Schindler's List, but with thirty percent fat. In addition, Zorman's knowledge of folk music is reason enough to buy the record instead of streaming it. In the enthusiastic CD booklet, he points out exactly where Ben-Haim uses Arabic melody… You open your ears in completely new ways. Which is, of course, also the meaning behind this migrant music and its desire for a rather more inclusive world.
Hanna Höglund, Sydsvenskan, 8 March 2019