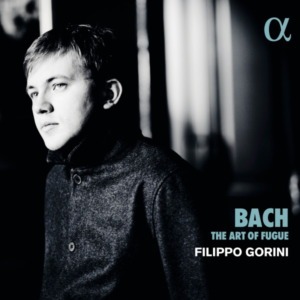 BACH The Art of Fugue on Alpha Classics
So here's another fine recording. Filippo Gorini's has lovely poise throughout, sometimes as though with bated breath, other times with driving propulsion, and occasionally exploding with pure joie de vivre. He never pushes the pace, letting Bach's complex patterns unfold with grave deliberation, while always keeping the multiple voices distinct.
Michael Church, BBC Music Magazine, November 2021
…wonderfully luminous … Gorini caresses the chromatic arches of the Canon per augmentationem; there is a tactile, pleading quality to his Contrapunctus 5, and even his quick movements (the Italianate Ninth, for example) are beautifully regulated by a meeting of fingers with brain comparable to (for example) Zimerman's Chopin.
Peter Quantrill, Gramophone, November 2021
The young Italian pianist Filippo Gorini practices the art of discretion, holding the strings together with the finest touch. The view goes inwards. This late Bach, in the hands of this extraordinary young man, is not just "great cinema", and not academic at all. Fruit of a search for the essentials in the final lockdown, this "art of fugue" is soulfood for an approaching winter.
Takt1 (Germany), November 2021
Filippo Gorini, the 2015 prizewinner [Bonn's Telekom-Beethoven Competition], delivered another gem, illuminating the intricate interplay of lines in Bach's Contrapunctus XI from The Art of the Fugue, but playing it not in an academically dry manner, but with palpable fervour and truthfulness.
Matthias Nofze, Bonner Generalanzeiger, 18 October 2021
Here, a young pianist has worked out a real masterplan for one of the most complicated works in piano literature, which he also consistently implements – free of gimmicks and airs, free of any self-promotion. This has greatness, this has substance. Thus Filippo Gorini has succeeded in creating an impressively coherent and well-considered recording of Bach's Art of the Fugue that is as wise as it is sensitive – right up to the moment when the work breaks off: "The composer died over this fugue […]," his son Carl Philipp Emanuel noted in the manuscript. Then follows a minute of silence.
Christoph Vratz, SWRadio2 (Germany), 4 October 2021
He plays each of these canons, fugues, and counterpoints as musical statements laden with feeling and rhetorical meaning. This isn't to say that he treats them like Romantic pieces, but rather that he interprets them through a lens that isn't strictly academic. The result is a truly enlightening and deeply moving performance. Both discs are recommended to all classical collectors.
Rick Anderson, CD Hotlist (US), October 2021
*****

Priority seems to be given to eloquence… The music is rich enough to offer and support different interpretations. Filippo Gorini's remains one of rare intensity.
Philippe Venturini, Classica, October 2021
[I] have nothing but admiration for his performance in general. All in all I have to declare that this is one of, if not the most expressive recordings of this work available.
Dominy Clements, Music Web International, September 2020
…a reading that does not exhibit anything dramatic but knows how to recall enchantment even from the depths of uncertainty.
Corriere della Serra, 16 September 2021
Gorini's playing is lyrical and warm, the expansive tempi giving the music space to breathe. The Canon alla Ottava feels unusually dance-like, a bracing release of tension after the four fugues which precede it. He excels in contrasts: Contrapunctus VI is all poise and elegance, the fugue that follows it a study in quiet introspection… There's a palpable sense of discovery. Gorini gives each fugue personality. His Fuga a 3 soggetti is terrific, played unfinished as Bach left it, the sudden finish as surprising as ever. We're left wanting to find out more.
Graham Rickson, The Arts Desk, 11 September 2021
The discursive themes… are made evident, with gentle but incisive expressiveness in the safe hands of this young pianist… A particularly valid CD, which reveals Gorini's evident aptitude for, and total involvement in, the music of supreme Bach. Highly recommended.
Cesare Guzzardella, Corrierebit.com, 5 September 2021
This beautiful album is a landmark in the Bach discography. Gorini brings archaic into our time, confidently, multilayered, uninhibitedly natural, with the voice of one who transposes cosmic loneliness into lucid experience. And does not entrench himself in an ivory tower, but enters into an open cross-genre conversation with his audience. Stupendous!
Online Merker, September 2021
Gorini is… a young pianist on his way to Bach's counterpoint summit. In keeping with the work and self-confident. But also respectful – evident in the fact that the final quadruple fugue remains a fragment and the problematic chorale conclusion is omitted. Gorini's interpretation of  The Art of the Fugue is a very sophisticated achievement.
Johannes Adam, Badische Zeitung
In this interpretation, the world of fugues doesn't resemble the stony roads, grey landscapes that Gorini depicts in his poems. It's more like a cosmos made of glass, transparent, an almost unreal magical world in which all is audible, but nothing is tangible, and in which one moves as in an illusive dream. Filippo Gorini is a master of gradual progress, of untraceable transitions. A crescendo builds up and breaks down over many, many bars, in a single great line. Everything flows, nowhere is there even a trace of rough edges. But – and this is where it turns into true art – it seems neither too smooth nor innocuous but instead, for wide stretches, like a single mediation… There may be recordings that place more importance on bigger contrasts, on articulatory finesse or on the 'Art of the pianist' rather than the 'Art of the Fugue'.  Filippo Gorini, on the other hand, remains behind the work as an interpreter. Bach is what you hear, not Gorini. This is indicative of an artistic maturity and skill which are nothing short of astonishing.
WDR3 TonArt, September 2021
… a recording that is one hundred percent convincing and that captivates the listener above all through its sparse expressivity.  Gorini succeeds in leading the music into silence and dissolving it there. The colors remain brittle, the touch discreet and deeply felt. The forms develop as if by themselves, unobtrusive but concise, visionary. The breath remains calm, the interpreter introverted. It almost seems as if he had recorded this work in one breath, so compact does the rendition seem. Overall, this is one of the most interesting recordings of The Art of Fugue in existence.
Remy Franck, Pizzicato, 4 September 2021
There is no doubting that Filippo Gorini is one of the great thinkers around today… He is at once intellectual (nothing escapes him in this complex music) and yet speaks directly, yes, to the heart, but more, to the soul.  Gorini once told me that it is the dialogue between the voices in contrapuntal music that he finds so fascinating, a fascination that shines through every note of this two-disc experience. The performance is peaceful, and unutterably profound; what Gorini himself refers to as a 'timeless beauty'.
Colin Clarke, Classical Explorer, 27 August 2021