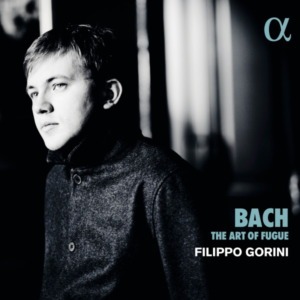 BACH The Art of Fugue on Alpha Classics
Gorini's playing is lyrical and warm, the expansive tempi giving the music space to breathe. The Canon alla Ottava feels unusually dance-like, a bracing release of tension after the four fugues which precede it. He excels in contrasts: Contrapunctus VI is all poise and elegance, the fugue that follows it a study in quiet introspection… There's a palpable sense of discovery. Gorini gives each fugue personality. His Fuga a 3 soggetti is terrific, played unfinished as Bach left it, the sudden finish as surprising as ever. We're left wanting to find out more.
Graham Rickson, The Arts Desk, 11 September 2021
… a recording that is one hundred percent convincing and that captivates the listener above all through its sparse expressivity.  Gorini succeeds in leading the music into silence and dissolving it there. The colors remain brittle, the touch discreet and deeply felt. The forms develop as if by themselves, unobtrusive but concise, visionary. The breath remains calm, the interpreter introverted. It almost seems as if he had recorded this work in one breath, so compact does the rendition seem. Overall, this is one of the most interesting recordings of The Art of Fugue in existence.
Remy Franck, Pizzicato, 4 September 2021
There is no doubting that Filippo Gorini is one of the great thinkers around today… He is at once intellectual (nothing escapes him in this complex music) and yet speaks directly, yes, to the heart, but more, to the soul.  Gorini once told me that it is the dialogue between the voices in contrapuntal music that he finds so fascinating, a fascination that shines through every note of this two-disc experience. The performance is peaceful, and unutterably profound; what Gorini himself refers to as a 'timeless beauty'.
Colin Clarke, Classical Explorer, 27 August 2021