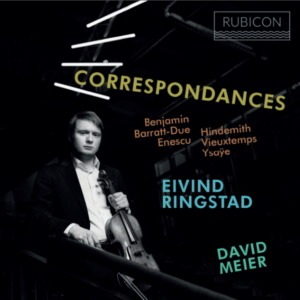 Correspondances Debut recital CD on Rubicon Classics
…although I've mentioned his soft, dark poeticism, one of Ringstad's aims has been to showcase his instrument's potential as a virtuosic instrument. This is evident in Benjamin's final Toccata and even more so in the album's title track by Peder Barratt-Due, written for Ringstad in 2018. …the case Ringstad makes most fascinatingly of all with it is the viola's capacity for upper register lyricism. Add superb partnering from pianist David Meier and it's a strong recital debut. I've given you the Benjamin and the Vieuxtemps for this month's playlist.
Charlotte Gardner, Only the Music's Albums of the Month on dCS, January 2021
[Hindemith's Viola Sonata Fantasie] showcases Ringstad's ripe, rhapsodic tone and the cleanness of his finger work in the outbursts of elaborate filigree. Charm and panache are in Ringstad's armoury too … But the most interesting piece on the disc is probably Peder Barratt-Due's Correspondances … A sharp-edged work that juxtaposes spiky, staccato rhythms with a keeningly lyrical centre section, it shatters preconceptions of the viola as a somewhat stuffy, conservative instrument, especially in Ringstad's commandeering performance.
Performance: ****
Recording: *****
Terry Blain, BBC Music Magazine, February 2021
Ringstad waltzes his way around the floor with supreme nonchalance and agility, his 1768 'Vieuxtemps' Guadagnini proving a mercurially responsive vehicle, from which he coaxes some hauntingly veiled sounds throughout the programme… The three movements that make up Benjamin's Sonata are so many character pieces which Ringstad shapes most eloquently, moving seamlessly between soulful sadness, wistful remembrance and motoric, forward-surging energy… Hindemith's Sonata brings this warmly recorded recital to an exhilarating conclusion, its wide-ranging variations emphatically characterised by both players.
Carlos Maria Solare, The Strad, January 2021
Viola Brilliance
Only rarely is a viola player prominent enough to shine as brightly as violin virtuosi. Eivind Ringstad is one of these… Correspondances shows why. Ringstad's lyrical musicality and uniqueness as a viola player come to the fore… His approach is ambitious and well advanced. Ringstad has a lot to say and is not afraid to demand to be heard.
***** Maren Ørstavik, Aftenposten, 14 November 2020