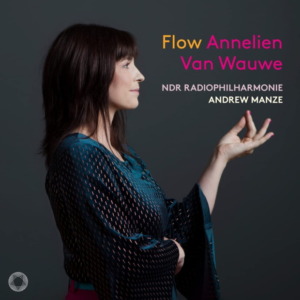 Flow
Wim Henderickx Sutra
Concerto for Basset Clarinet, Electronics & Orchestra
Mozart Basset Clarinet Concerto in A K 622
Annalien Van Wauwe clarinet
NDR Radiophilharmonie
Andrew Manze conductor
Pentatone PTC 5186-973
The purity of her tone is sustained, even when she switches from lyrical, ornamented features to more subdued moments… "The similarity between yoga and music is making a connection" – the musician succeeds wonderfully in this. During the recordings she literally stood among the orchestral players, so that her playing with and against the orchestra remains wonderfully natural. The power of that interplay flourishes especially in Wim Henderickx's concerto. The warm tenor sound of the woodwind plays the leading role in a mysterious, Buddhist, symphonic sound world.
JC, De Standaard, 6 April 2022
The starting point for the effective composition are yoga sutras by Patanjali: Breath of Life, Meditation, Mind Concentration and Intense Spiritual Union. This results in an esoteric-mystical sound world, which is effectively presented by the performers.
Remy Franck, Pizzicato, 4 April 2022
---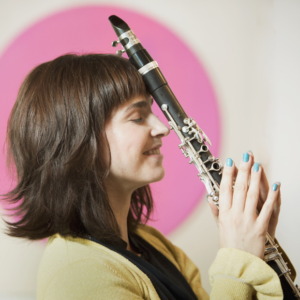 Wim Henderickx
Sutra Concerto for Basset Clarinet, Electronics & Orchestra
Annalien Van Wauwe clarinet
BBC Scottish Symphony Orchestra
Martyn Brabbins conductor
World première Glasgow 31 March 2022
Even if yoga's not your thing, there was no mistaking the mystical, meditative quality of Sutra, its four interlinked movements encased in a sound world that is inwardly seductive and outwardly ethereal …Van Wauwe's performance was thoughtful and quietly ravishing, the use of the mellower basset horn possibly instrumental in subduing her solo presence at times, yet in the third movement, a sidestepping frenzied scherzo, the awakening from the hypnotic inertia of the surrounding movements revealed a vital, energised side to the former BBC New Generation Artist. Conductor Martyn Brabbins found endless potential in Henderickx's score, from its subliminal live textures to their magical integration with its spectral electronic backdrop.
Ken Walton, The Scotsman, 1 April 2022
There are a lot of different ingredients in the score, with many of the ideas coming from the soloist and dedicatee … she combines her musical practice with yoga tuition, and the disciplines of meditation and concentration are themes of the central two movements. Only in the third one did the work become at all virtuosic, with a step up in tempo, a speedy Ballkan melody line and a big band sound from the orchestra … He [Henderickx] also gave Van Wauwe plenty of opportunity to demonstrate the lower register of the basset clarinet, although the most attractive and exciting passages she had to play seemed to fall within the range of the regular instrument.
Keith Bruce, Vox Carnyx, 1 April 2022
It's an atmospheric/suggestive score, of slow formations, otherworldly, involving evocative chanting from the soloist and some orchestra members, and hypnotic in effect, a variety of colours and details sustaining the thirty-minute-plus whole…  and, to regulate the trance-like inducements, there is fast and fortissimo music, too, requiring virtuosity from all concerned – duly received – Van Wauwe's basset cutting through with glee, the music dancing ecstatically, until a return to meditation and a fade to silence (or another dimension beyond our consciousness). Sutra is a fascinating listen.
Colin Anderson, Colin's Column, Classical Source, 31 March 2022
---
Belle époque
Clarinet works by Debussy, Manfred Trojahn, Pierné, Brahms and Widor
with Orchestre National de Lille
Alexandre Bloch conductor
Debussy's Première Rhapsodie emerges gradually from the mists, immediately establishing the Belgian clarinettist's warm, elegant tone and easy legato. Trills are evenly placed and the high notes are floated without becoming pinched… The most interesting item on the disc is undoubtedly the Trojahn Rhapsodie…The Reverie opens in suitably dreamy mode but soon turns nightmarish, with huge plunges from stratospheric top notes to the bottom…while the Caprice is a helter-skelter high-wire act for the soloist which Van Wauwe navigates with aplomb.
Guy Rickards, Gramophone, December 2019
The muted opening of the Debussy Première Rhapsodie is beautifully played here… It is a piece that requires great skill and control in both the soloist and orchestra, something that is clear in this superb performance, which has quickly replaced my other accounts as favourite… The playing throughout is very good, with Annelien Van Wauwe proving herself a formidable clarinettist, especially in the Manfred Trojahn work, although it is in the French pieces that she really shines. The Orchestre National de Lille and Alexandre Bloch are in perfect partnership with the soloist, making this a most interesting and enjoyable disc. The recorded sound is clear and bright and the booklet notes give a good introduction to each of the composers and their music. A very welcome disc of music for clarinet and orchestra.
Stuart Sillitoe, Music Web International, August 2019
Annelien Van Wauwe is already a consummate artist and this well-planned disc gives us an excellent view of her technical skill, her musicianship and her lovely tone, even in the altissimo register.
Roger Nichols, BBC Music Magazine, November 2019
Annelien van Wauwe gives an atmospheric performance.
James Jolly, The Listening Room/Gramophone blog, 19 August 2019
Seductive sounds of a golden era … A CD that is full of charm.
Ivan Hewett, Daily Telegraph,17 August 2019
Gorgeous clarinet sound; rich orchestral playing … a fine recording as well.
Andrew McGregor, BBC Radio 3 Record Review, 14 August 2019