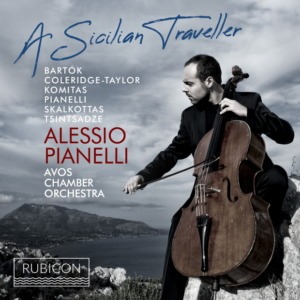 A Sicilian Traveller
Tsintsadze, Komitas, Coleridge-Taylor, Skalkottas and Bartók (Rubicon)
Cellist Alessio Pianelli's delightful album is a lively tribute to his native Sicily

All pieces, arranged by Pianelli for cello and strings, are rooted in folk music. In addition to soulful songs by Komitas, guardian of the Armenian musical heritage, there are spirituals and infectious Greek rhythms. Pianelli provides the smooth, honey-coloured solos, the Avos Chamber Orchestra the additional panache and percussive momentum … here it is all about heart and soul, past and longing. Pianelli's own composition, turbulent variations on the Sicilian folk tune Ciuri, ciuri, is also bursting with zest for life.
Jenny Camilleri, de Volkskrant, 16 April 2021
In A Sicilian Traveller, Alessio Pianelli shows himself to be not only an exceptionally talented and passionate musician, but also an inspiring musical archaeologist and guide through and along the historical sources of Sicilian culture. His mission has succeeded.
C Cornell Evers, Reporters Online (NL), 7 April 2021
****

To record these songs Pianelli first of all re-arranged them for solo cello and the Rome based Avos string orchestra. It's an immense labour of love which Pianelli has carried out with great tact as well as musical imagination. The deep tragedy of the Armenian songs, the lighter charm of the Georgian melodies, and the eccentric, tangy quality of the Greek pieces all shine through, thanks to Pianelli's playing which is changeable as quicksilver and mournful as a folk balladeer. At the end Pianelli returns home, playing his own witty variations on a Sicilian melody. It's a fine end to a disc that glows with Mediterranean and Near Eastern heat, and if we really can't get away to the sun this summer it will bring some comfort.
Ivan Hewett, Daily Telegraph, 30 March 2021
… the interpretations and arrangements are captivating, supported by the strings of the Avos Chamber Orchestra, with a fine feeling for the specific colours belonging to the origins of the different works. The album offers a pleasant and varied introduction to spring.
Pedro Obiera, Achener Zeitung, 27 March 2021
When the Cello Sings and Dances
…a pleasing and entertaining program that blossoms in the lively and virtuosic interpretations of Pianelli and the musicians of the Avos Chamber Orchestra, placing lightheartedness alongside melancholy and nostalgic melodies. In so doing, Pianelli certainly goes his own way with individual phrasing, exquisite rubato and finely nuanced colours. He lets his cello and his orchestra sing and dance. This is suggestive music-making on a high technical level, which is all the more evident because the sound recording is also of excellent quality… very present, full and rich, but at the same time of captivating transparency. The CD concludes with the distinctive and exquisite, originally and imaginatively realised Variations on a Sicilian Theme by Alessio Pianelli himself.
Remy Franck, Pizzicato, 26 March 2021
*****

Alessio Pianelli is a cellist with a vision – of a magical mosaic of all the musical influences which have infused the culture of his native Sicily… His taste is impeccable: every track on this CD reflects a love of music rippling with convivial pleasure.
Michael Church, The Independent, 4 March 2021