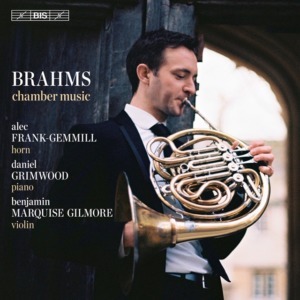 Brahms Chamber Music on BIS
Fascinating to hear new colours in a familiar work, with Brahms's First Cello Sonata transcribed for French horn.  It also makes a fine prelude to a terrific performance of the Horn Trio. ****
Jeremy Pound, BBC Music Magazine, February 2021
…the sombre first theme [of Cello Sonata No 1, Op 38] translates into the horn's autumnal tones like a dream … and Frank-Gemmill's intelligent shaping and articulation all contribute to its success.
Charlotte Gardner, Gramophone, December 2020
This work [Horn Trio] is frequently played on the natural (unvalved) horn; using a vintage instrument with piston valves allows Frank-Gemmill's quieter playing to really sing. This is a gloriously soulful performance with the Adagio mesto packing a huge emotional charge. The close is so desolate you wonder how Brahms will pick himself up. He does, of course, with another galumphing 6/8 rondo, Frank-Gemmill's agility all the more impressive for being played on a vintage peashooter.
Graham Rickson, The Arts Desk, 14 November 2020
…a well balanced trio…with Frank-Gemmil's lyrical phrasing and warm tone
Andrew MacGregor, BBC Radio 3 Record Review, 10 October 2020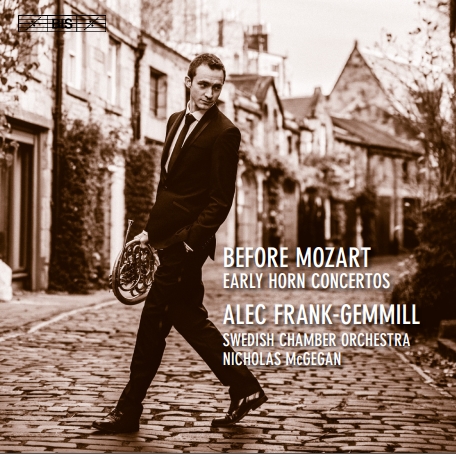 Before Mozart – Early Horn Concertos on BIS
with the Swedish Chamber Orchestra
and Nicholas McGegan
"…the technical challenges are formidable, and he [Frank-Gemmill] meets them with an assurance that often takes your breath away. Neruda's vertiginous lines ascend into the stratospheres with astonishing ease and Haydn's rapid-fire figurations are done with effortless dexterity. Nothing is vacuously showy, however: virtuosity is consistently placed at the service of expression… An exceptional disc that confirms and consolidates his reputation as one of today's finest horn payers, it makes for compelling and essential listening."
Tim Ashley, Gramophone, June 2018
"This is an outstanding collection, in which Frank-Gemmill's stratospheric virtuosity, on three different instruments, is elegantly counterpointed by Nicholas McGegan's buoyantly sympathetic direction… A radiantly engineered recital of heart-warming bonhomie and virtuoso sparkle."
Performance: *****
Recording: *****
Julian Haylock, BBC Music Magazine, June 2018
"Five horn concertos from the five decades before Mozart make a fun programme for a brilliant player… In the Haydn, Frank-Gemmill plays across an amazing range. Superb recordings increase our pleasure."
*****
Tully Potter, Daily Mail, 26 May 2018
"Alec Frank-Gemmill is just fantastic at writing his booklet notes as well as playing the horn… [Neruda Horn Concerto in E flat Major] is just technically so accomplished but so musical as well. You feel the horn can do anything – and he does… absolutely a joy to listen to, this CD, from start to finish. Things like the ornamentation just sound so effortless… I really think it's a wonderful CD"
Sarah Devonald, BBC Radio 3 Record Review, 19 May 2018
"Frank-Gemmill's agility is second to no horn player active today. A superb disc."
Colin Clarke, Classical Music Magazine, May 2018
"What had me salivating was a chance to hear the concerto by one Johann Baptist Georg Neruda, a piece usually appropriated by greedy trumpet players. Frank-Gemmill conclusively proves that this is a genuine horn work. It's ludicrously, impossibly high, originally written for a Dresden virtuoso who specialised in the horn's clarino register. Telemann's D Major Concerto is less daunting, though Leopold Mozart's Sinfonia da Camera contains some scary moments. More musically satisfying is Haydn's Concerto No. 1, composed for the same player who inspired Leopold Mozart's son. Haydn's finale is a joyous romp, a mirthsome sequence of trills and rapid arpeggios which would be more popular if it wasn't so hard to play. A superb collection."
Graham Rickson, The Arts Desk, April 2018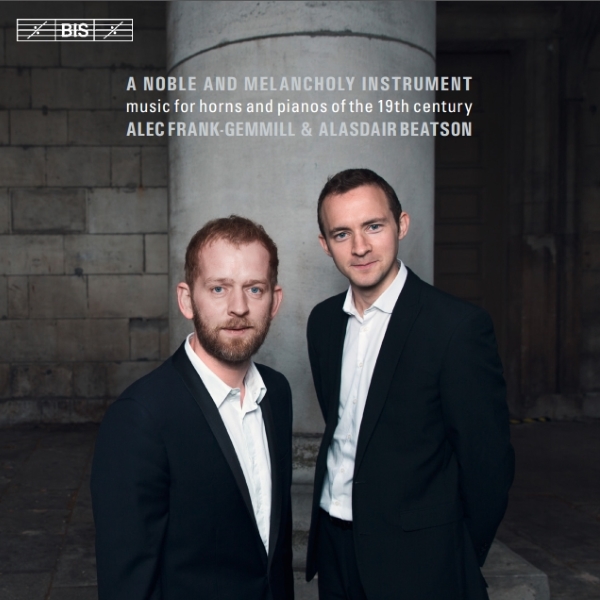 The Horn is a Noble and Melancholy Instrument on BIS
** Nominated for a 2018 BBC Music Magazine Award
"There was a time when a recital featuring a number of different period horns and pianos would have almost certainly been an uphill struggle for both players and listeners.  So to encounter a programme featuring some of the core works in the horn repertoire played on historically appropriate instruments with such effortless musicianship and technical ease really takes some believing… Frank-Gemmill and Beatson enter the fray with fearless alacrity, making even the most well-worn of phrases sound freshly minted." Performance ***** Recording ****
Julian Haylock, BBC Music Magazine, July 2017
"The changes of sound and technology are fascinating, but the programme and the playing are what really make this such an excellent recital – and the recording's pretty good as well."
Andrew McGregor, BBC Radio 3 Record Review, 6 May 2017
"Both notable performers on modern instruments, Alec Frank-Gemmill and Alasdair Beatson here revel in the sonic possibilities offered by the historic instruments with results that are as delighting as they are enlightening."
Presto Classical
"All of which [the historical premise for the recording] is academically fascinating, but would be irrelevant if the playing of both musicians was not of such high calibre, virtuosic and technically flawless, but with real emotional depth.  And such is the variety here, there is bound to be at least one piece that steals your melancholy heart."
Keith Bruce, The Herald, 31 March 2017
"The logistical and organisational challenges must have been immense, but the musical results are glorious… Fiendish enough on a modern instrument [Schumann's Adagio and Allegro], Frank-Gemmill's fearless, colourful playing on an antique single horn paradoxically makes the piece sound easier. … As a bonus, the pair throw in a typically anachronistic piece of English fluff: Gilbert Vintner's Hunter's Moon was a favourite of Dennis Brain. Written as late as 1942, it's an inconsequential delight, the sizzling handstopped notes a highlight. Unmissable, with Beatson an unfailingly sympathetic accompanist."
Graham Rickson, The Arts Desk, 15 April 2017