The BBT team – Susan, Nick and I – are well used to working from
our individual homes and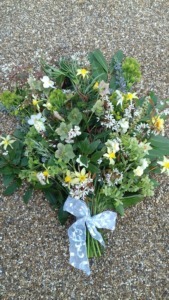 are well practiced at keeping up excellent communication within our 'triangle'; Susan is based in west London, Nick in east London and I am directly south, out of the metropolis, on the coast in East Sussex. Although I miss seeing them, our working together is pretty much business as usual at this time of Covid-19 lockdown. I have to say, that being where I am means that my isolation (with my husband for company) is no hardship at all. We have a larger house than we had in London and also a much bigger garden where there is plenty to keep us active by way of weeding, mowing, planting and picking flowers, as I did yesterday morning to take to my Uncle's funeral in the afternoon.
It was an hour's drive to the crematorium along country roads. I couldn't help but notice the sudden profusion of fresh green spring growth along the hedgerows. Well, it seemed 'sudden' to me because I haven't been out of what I call 'our compound' for two weeks. But also, after many grey months of rain over the winter, the sun has been shining for the last week or so and, despite the pandemic, Nature has been getting on with its business regardless. Driving through the villages I found myself marvelling at the flowerbeds full of multi-coloured tulips and the displays of waving daffodils and narcissi on the grassy banks. And now, the first lambs are tottering around in the fields.
Of course they are! Somehow, because Coronavirus has taken over our news, our conversation, our reading, our work, our social and family relationships – indeed our lives – my visit to the outside world was truly wondrous because it confirmed to me that in many ways, life goes on. This virus is a human problem. Going out, and looking outside of ourselves is good for us. Slowing down is probably good for us too, but it will take a while to come to terms with so many changes.
Back to the funeral – not a sad topic, I promise. My uncle was 95 and very frail and his death was three weeks ago and not related to Coronavirus. For sure he has been released from the last few years of moderate suffering and his time had come. The gathering for his funeral was necessarily small in these times of social distancing – just me and my three cousins. My parents (both gone some years ago) each came from large, but not close, families. I hardly know the majority of my 30 or so cousins, but in the last few years we have seen each other a little more regularly as members of the older generation have died and we gather to say our dutiful farewells. Yesterday we four each had our own pew in the small chapel and, sitting at the back, I got to thinking about family and how, even though my cousins and I have not grown up together and don't see each other – or even know each other really – we are nevertheless family and there is a fundamental common root that unites us. Even funerals, sad as they are, have a validity in our lives because they bring us into contact with each other again.
Chatting with my distant cousins (at the required 2m distance) after the service we exchanged anecdotes about our parents and found some threads to unite us. I came away with a warmer heart for having been in their company, even for a short time. The sad occasion, although we could not hug or embrace, brought us together with familial ties and greater emotional closeness.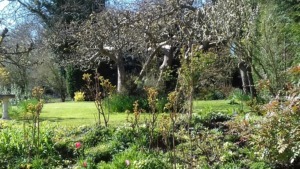 On the drive home (back to 'the compound'), I got to thinking about our 'BBT family'. Coronavirus, and the losses and lockdowns it has engendered, is certainly a disaster from many points of view and brings fears of loss and hardship to the whole world. Over the last week or so Susan, Nick and I have reached out to our BBT artists, right back to the very first alumni who received the inaugural awards in 2003. Susan has been checking on everybody's status and making sure they can cope, Nick has set up #BBTathomeforawhile on our social media channels and I am liaising on various PR and media opportunities and outlets. This has given us the opportunity to be in touch with many of you that we don't see or hear from on a regular basis and I think we all take some comfort from this contact and knowing there is genuine concern among us all.
Italy is the home of BBT's 'mater familias', Ilaria Borletti Buitoni. The country has endured these fears and losses longer than the majority of the world (excepting China, of course) and I sense a deep grieving there. Ilaria's generosity abounds in many different areas of charitable work – BBT and helping young musicians is only part of the story. Her responsibilities go way beyond herself and she continues to give huge amounts of social and moral, as well as financial, support to so many people. The ethos of BBT is based on this approach and these values because of her.
I just wanted to say to everyone that we appreciate everything you have done, continue to do, and will do in the future. Family values underpin so much of community life and, just because we are forced more than ever to be socially distant, we are not emotionally distant.
Coraggio everybody.