There's an argument to be made that the state of British quartet playing has never been healthier. Pressed for evidence I'd turn first to the Heath Quartet, three-quarters of whom are sitting in front of me. Prizes, awards and glowing reviews have piled up since Oliver Heath founded the group in 2002 while studying at the Royal Northern College of Music (RNCM) in Manchester. Here he is in the central London offices of the harmonia mundi record company, a little sleep-deprived as new dads should be, but perked up by an Easter break and joined by the cellist Chris Murray and the Quartet's new second violinist, Sara Wolstenholme. Only the violist, Gary Pomeroy, is dawdling in Florence.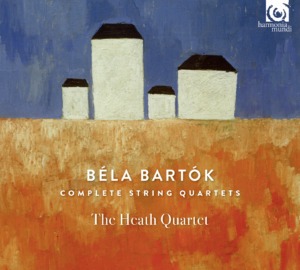 Both occasion and venue are prompted by the Quartet's new recording of a Bartók cycle, made over two concerts at the Wigmore Hall in May 2016. For an ensemble with regular return invitations to the world's chamber-music hubs, in London, New York and Berlin, they have made relatively few recordings. 'It wasn't a conscious choice,' says Heath disarmingly, 'but how things evolved. Some of our peers have recorded much more than us. We had a few opportunities, but we were waiting for the right thing.'
That 'thing' was only the second complete cycle on disc of the five quartets by Sir Michael Tippett, also recorded live at Wigmore Hall: a remarkably bold debut, and one rewarded with the 2016 Gramophone Award for chamber music, where they fought off competition from more long-established groups such as the Emersons and the Artemis, and against repertoire staples of Schubert and Brahms. In turn this brought further recognition which may be considered somewhat overdue to a group that has come into full maturity, ready to pass on their collective experience through teaching at the Guildhall School of Music and Drama in London.
In the interim, the First and Third quartets of Tchaikovsky have been set down in the studio thanks to the Heath's new relationship with harmonia mundi, and with the support of the Borletti-Buitoni Trust (BBT). In a field not overstocked with Western-European rivals, the Heaths won widespread praise for a natural and idiomatic mastery of music which is often hard to extricate from tenacious assumptions about private melancholy and public assertions of nationhood. As the Sunday Times reviewer wrote about the elegiac Third Quartet, 'the Heath players pour out Tchaikovsky's grief for his friend with a depth of tone and virtuosity that matches the finest Russians on disc.'
Having been awarded a Special Ensemble Scholarship in 2011, the Quartet is also the beneficiary of BBT support for the new Bartók cycle. Here too Heath is fairly robust in pointing out that this music doesn't 'belong' exclusively to native musicians. 'Way back we studied Bartók with Hungarians,' he says, 'but I remember speaking with Stephen Hough about the Russian way of playing Rachmaninov. He thought it was complete nonsense. I do sense that there is a sense of ownership over some music, but the idea that only Czech quartets can play Dvořák is ridiculous, as though English musicians are the only people who can play Delius.'
Heath expresses a strong preference for the demands and concomitant rewards of a live recording. 'There's more pressure on you. But there's a seduction to being in the studio, being able to make sure everything's in the right place, and that can become the priority. That isn't an option playing live. And it isn't healthy. Maybe 20 years ago, we would have recorded Bartóks [in the studio] with everything in the right place. But there isn't much point doing that. It doesn't have much artistic value.' All six quartets in two concerts over three days was 'right on the edge of what was possible for us,' he says.
I was present at those concerts, and the atmosphere was as electric as Heath says. The hall-manager's adjuration to bear the microphones in mind – 'If you're thinking of coughing – don't' – was superfluous on this occasion. 'An enthralling Bartók cycle,' I remarked in the pages of The Strad, 'self-evidently the work of long preparation, in which sense and sound became one. The records should be worth waiting for.'
What they preserve is indeed a strong sense of music on the edge, even in the silence before No.1 with its strong kinship to Beethoven's Op.131. The quartet has listened to and learned from the composer's pioneering field recordings in the rural communities of eastern Europe and North Africa: 'They sound rough as anything,' says Murray, 'but there is such a sense of atmosphere and energy and charisma in the way they're played. It's like a party. You can hear people shouting and knocking things over. So when you get a piece of classical music which is played on stage it's important to remember that kind of excitement was there from the beginning.'
Such excitement is generated in the quicker music by a complex of metronome marks which it can be seductive to treat literally. Heath stresses the importance of absorbing the rhythms and tempi – 'you can't be doing cartwheels mentally while playing' – for a movement such as the Algerian wedding music in the middle of No.2. 'You've got to feel the moment that the tuba comes in, and it all gets a bit wonky. Having said that, in No.3 there are points where it's important to be mechanical.'
Murray is especially animated by the Machine-Age ostinati and crunching harmonic gears of the Third, the glissandi 'which make me think of elevators and escalators. The Third in many ways is the most exciting to play. The challenge is to keep hold of it.' 'He doesn't seem to care about bringing people in,' adds Heath. 'It's just there. The ending is mayhem, the most cacophonous writing in any of the quartets. At the beginning of the coda you have this rustic, folky writing, and then after the squiggly semiquavers there's a crescendo, it goes into fourths and ninths and becomes basically unintelligible to someone listening for the first time. But it's our job to make it clear.' But not too clear? 'I don't think that's something we need to worry about!'
Even in the more obviously imposing demands made by the five-movement structures of the Fourth and Fifth, believes Heath, Bartók was thinking more of his audience. In their buzzing scherzos and off-kilter finales may even be heard an unrefined humour: 'moments of slapstick and goofiness,' according to Murray, alongside the kind of internal quartet jokes in which the composer took no less delight than Haydn or Mozart, pitting instruments against each other in teams like the 'Game of Pairs' in the Concerto for Orchestra.
High purpose and low humour collide most spectacularly in the precipitous finale to the Fifth – 'the big one' as Heath puts it – where the second violin abruptly tears the fabric of material 'with indifference' (Bartók's marking). Their response is considered but down to earth, the Heaths to a T: 'It's a musical box,' says Murray, 'where something goes wrong in the second line. Like an ice-cream van, where the mechanics have gone wonky.' 'It happens in some of the most profound music of Mozart and Beethoven,' observes Heath. 'And then, all of a sudden they interrupt the mood – don't take it too seriously! – before they carry on in the same vein.'
Tracing a thread or development through six works composed over a composer's active life-span is irreducible to soundbites, but the big discovery for Heath lay in the different shades of Bartók's slower music. 'The contrasts between incredibly tender and heart-on-sleeve moments, generous and open, and then a bleak hopelessness, and then howls of anguish and inconsolable grief. I'm thinking of the last movement of No.6. You have these different types of expression for the turmoil inside him, and they don't sit easily with each other.'
The Heath Quartet now finds itself on the cusp of change. Its personnel had remained constant until second violinist Cerys Jones departed last autumn 'to pursue new musical collaborations that allow me to be a better mother… As a violinist, being in a successful string quartet is as good as it gets, but it has come with huge sacrifices for my family.'
How do three become four again? Is it a matter of sifting CVs, sitting through interviews, slotting into post? Is it more like transplant surgery to replace a lost limb? Surely you can't advertise in a newspaper: 'Wanted – Second Violin. GSOH and experience of living out of a suitcase essential'. Or a lonely hearts column: 'Three players WLTM violin for foursome. Must bring own instrument.'
In fact the Artemis Quartet did just that, Heath reminds me, following the death of their violist Friedemann Weigle in 2015. Second violin Gregor Sigl switched instruments and his place was taken by Anthea Kreston. As recruitment options go, however, it's an outlier. Heath and his colleagues took a more routine approach – 'putting out feelers. The people we contacted were mainly those we'd come across before.' Wolstenholme variously knew the other three from her schooling at Chetham's in Manchester and student days at the RNCM. Five years ago, she covered for Jones's second period of maternity leave.
The Heath's remaining members lined up a few contenders and issued invitations to come and rehearse. So Wolstenholme joined them one day in November for a session at Pomeroy's house: they played through some Mozart and Dvořák: 'We exchanged some comments,' she recalls, 'but it was by no means intense rehearsal.' She was taken on for a trial patch of concerts, but the decision was evidently an easy one to make. 'The three of us met up at Pret a Manger in St Pancras station before catching the Eurostar early one morning in February,' says Murray, 'and it was a very brief meeting indeed – a few minutes – to confirm that we wanted Sara to join the quartet.'
Before their break, the Quartet undertook an intensive tour of Germany; the new line-up has given just ten concerts together, so they are still in the early stages of adjustment. According to Murray, 'the quartet has an identity which will change slightly but also stay the same. Sara brings a new, slightly different way of working.' Such as? 'I bring almonds!' jokes Wolstenholme, but Murray adds that 'when we're in rehearsal there's even more sense of what we want to get done rather than turning up and seeing how it goes. There's more of a sense of homework.'
Wolstenholme had been a member of the Finzi Quartet until it disbanded in 2012 – but as first violinist. Then she joined the Scottish Chamber Orchestra as principal second, and in that capacity has played with a number of ensembles including the Northern Sinfonia. 'Coming back to quartet life is coming home to me,' she says. At the same time, she took care not to fill the hole left by Jones, but to create her own space. 'I didn't look at films of the quartet online because I thought, "what's the point?" As soon as you do that you start to analyse what the previous person did, but all you can do is be true to yourself, and do what you believe in. I was glad that I didn't make that comparison.'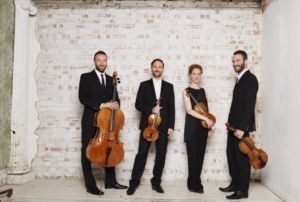 Heath himself values exactly that sense of identity in her and the Quartet as a whole. 'That's one of the things I love about Sara: there's an unshakeable core musician in her which won't change, and that's very exciting. Chris and Gary and I are all quite different musicians. We have different approaches to what we play, different philosophies and attitudes, and that's what I want. When I go to see a group on stage I want to see that energy. A perfectly homogenised quartet – and there are many – isn't so interesting to me. What we share is our integrity as people, and what happens on stage is a meeting of different people. We rehearse to create something that's cohesive and intelligible as a whole, but within that there are four very different people.'
My reference to An Equal Music elicits a groan from Heath – 'I tried to forget that book' – but Vikram Seth's novel opened up to outsiders both the sealed world of a string quartet ('you are a bit of an island,' admits Heath, 'quite self-contained') and the peculiar nature of its group dynamics. Heath explains more, from the inside. 'As the process was going on, I was thinking that to the outside world, it would appear that changing the first violinist is the most important thing in changing how a group plays. But when you're inside a group, the second violinist is possibly the most integral role in how a quartet plays and how it glues together the different roles. Someone outside might think the inner parts are pretty interchangeable, but the second violinist creates the cohesiveness. She directs traffic.'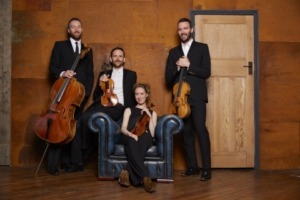 As a former first, now second, Wolstenholme appreciates the difference better than most. 'There's a different sort of stamina to playing first violin' – 'and loneliness!' interjects Heath, putting on a 'sad violin' face. 'Both roles have their difficulties and joys,' continues Wolstenholme. 'You don't feel lonely as a second violin. There are certain technical things I'm getting used to: noodling about in lower registers, and then suddenly having to play something soloistically, but not in as nice a register as the first violin. Before my trial, I did a lot of playing on the bridge on the D string, because as a first violin you don't spend so long in the lower part of the instrument.'
Considering whether there is any such thing as a 'first violin' violin leads us to think about matched quartets of instruments. The first violin has a thinner table than the second in some modern sets, and Wolstenholme has experience of playing one of the most famous historical sets, the 'Evangelists' of Vuillaume, after the Finzi Quartet was awarded the loan of them in 2010; as I recall from the competition finale at Wigmore Hall, the Heaths also took part, and there was some surprise that they did not win.
She now plays a 1750 violin by Gennaro Gagliano, with a 'really beefy' G string, evidently suited to her new role. The most renowned matched quartet of all must be the 'Paganini' Strads, with which the Heaths had tangential contact when partnering the Tokyo Quartet in the Mendelssohn Octet a few years ago. Murray was surprised how much bow his fellow cellist, Clive Greensmith, used in order to summon that particular 'warm resonance' associated with the 'Paganini' quartet. As Heath observed from a recent Wigmore recital, the instruments now sound quite different and less homogenous in the hands of the Hagens. 'It might be a cliché,' says Murray, 'but you do end up sounding like yourself whatever instrument you play. It takes time – maybe a couple of years – but your sound comes through.'
Though coy about future recording plans with harmonia mundi/PIAS, the Quartet has a concert diary stretching years ahead, focused in the coming season by a concentration on the five quartets of Jörg Widmann, which they will perform one by one at the Wigmore, as they did the Tippett cycle. The coffee concert of 10 December is particularly enticing: Haydn's 'Fifths' and Mendelssohn's anguished Op.80 framing the Third 'Hunt' Quartet of Widmann. 'I'm looking forward to shouting on stage,' says Wolstenholme of the increasingly violent and vocal interjections that punctuate this Beethovenian perpetuum mobile. While it's hard to imagine these four friendly and grounded musicians yelling at each other in any other context, Widmann and the Heaths should have a Sunday-morning Wigmore audience spluttering over their sherries.
Peter Quantrill writes about music for Gramophone, The Strad, Pianist and many other journals. He contributes to international music festivals (Cheltenham, Edinburgh, Risør and Salzburg, among others) and record companies (including Deutsche Grammophon, Eloquence Classics and Warner Classics).
Find him on Twitter @PeterQuantrill
Photos: Simon Way
Listen to excerpts from the Heath Quartet's live Bartók String Quartet cycle on harmonia mundi here