Wilton's is on
e of the last and oldest surviving grand music halls in the world offering a vibrant blend of culture, heritage, learning and participation. We produce a programme of imaginative productions and activities, we give opportunities to emerging artists and present a year round programme that includes theatre (new commissions and classics), opera, dance, magic, music (classical and contemporary), cinema, circus, traditional music hall, comedy, puppetry and other art forms.
The building has led a chequered life – situated at the heart of the historic East End within easy walking distance of The Tower of London, the Thames and the City – it has been shops, a music hall, a Methodist mission, a rag warehouse and forgotten and derelict for many years ….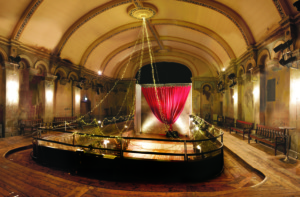 The Wilton's Music Hall Trust has been looking after Wilton's since 2004, bringing its very damaged structure back to life through a 3 year capital repair project. We are opening up new spaces all the time which brings me to the BBT concert series in our Cocktail Bar.
Using the cocktail bar as a performance space was a new venture for Wilton's. Previously it had been open to the public as extra foyer space with a small cocktail bar in the corner. It had no running water, it was propped up by acrow-props and the rain came straight through… in March 2015 it became a 40-seater performance space.
We wanted to trial concerts in the cocktail bar space because it is so intimate. Our philosophy is to present imaginative events and as we were thinking about what might work in there we remembered the first time we met the BBT. It was a few years ago and they were presenting O Duo – a percussion duo in the main hall and we thought –perfect! They were adventurous, fun and incredibly nice to work with. We approached BBT to see if they would consider a creative partnership during this developmental stage of Wilton's life. BBT brilliantly suggested some very creative and talented musicians who would like to try concerts in an unusual space without the formality of a concert hall. The idea was to give the artists freedom to choose their own programme, without agenda, and to give our audiences a really up close experience of live classical music.
However we still have building works going on (we finish completely in September), and it was a stretch getting the room ready on time for the first BBT concert in March. There was still saw dust in the corners, wires where there shouldn't be and we only just got the props down! The audience had to thread their way through a building site to get here!
The concerts were fantastic though, a treat to listen so closely to great music and to be able to talk to the musicians within the chilled atmosphere of a lounge bar.
All the concerts were my favourite but I particularly enjoyed Erik Bosgraaf's recorder concert. He mixed up traditional baroque pieces with brand new daring compositions that really showed off the range of the recorder. I think for any audience member this kind of concert is rare and a delight because there are no rules and "plenty of room to play."
The BBT relationship helped us to achieve our mission above, while the building is still emerging. It enabled us to hatch new kinds of shows and develop the artistic network that will keep the building alive in the future – so a HUGE thank you to Susan, Debra and Nick for making this happen!
Frances Mayhew
Artistic and Managing Director
Wilton's Music Hall
Click here to see Frances' Video Blog for BBT Wednesdays at Wilton's
Click here to find out more about Wilton's Music Hall and its current programme