Every BBT award winner is offered the chance to visit Il Boscoforte, Ilaria Borletti-Buitoni's country house in Italy, to take the opportunity to escape, either for a holiday or to work. Although I was desperate to go as soon as I discovered this at my first meeting with Susan, Debra and David back in January, it wasn't until October that I finally managed to clear enough days to make it possible.
I had a score deadline looming in November, so I flew to Milan on the 3rd October to spend 13 days in Il Boscoforte. I picked up a hired car from the airport, and had an absolutely terrifying drive to Taino. I've never driven a hired car before, or driven on the other side of the road, and I had absolutely no idea where I was going. I got honked at and shouted at a few times and had to take a lot of recovery breaks on the way. When I finally reached Taino I followed a small track leading out of the town and up into what seemed to be the middle of nowhere, following signposts for 'Il Boscoforte', before finally arriving at the house.  Lucia Pavanello, who runs the office, met me and helped me put the car in the garage (which was a relief – I didn't get it out again until the day I left), and showed me where I was staying.
Il Boscoforte has huge grounds, and at the time of year I went the trees were beautiful. I spent at least an hour of each day walking, and when the weather was good enough I always worked outside. It is silent, which is a huge relief after London, and it was amazing to suddenly have so much space and calm to work and focus. For the first couple of days it was a bit of a shock to the system for everything to slow down so much, but a huge relief mentally. For a place to work it was perfect; I followed the same routine of working every day, and only left the grounds on one of my 13 days there.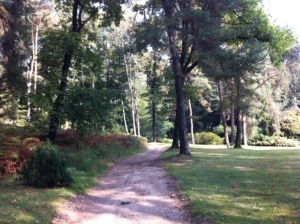 The house has a huge living room with beautiful windows that have an amazing view across the grounds and to Lake Maggiore. The house is decorated with beautiful wooden features and ornaments. My favourite thing were these huge canons on the stairwell: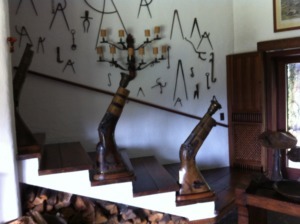 However aside from the beautiful grounds and perfect working conditions, the best thing about my trip was the food. Adele, Ilaria's housekeeper, made the most amazing meals (two or even three courses, every day!) while I was there. I've never eaten so well in my life. Adele doesn't speak any English, and I don't speak any Italian, and I spent most the week looking up different Italian words to try and thank her for how amazing it was. One of my favourite dishes was parmesan, rocket and parma ham: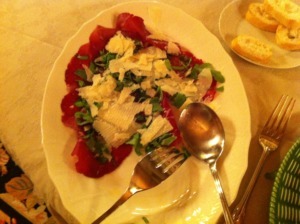 Once for lunch I had spaghetti with cep (porcini mushrooms)  – which had been picked fresh from the grounds that morning: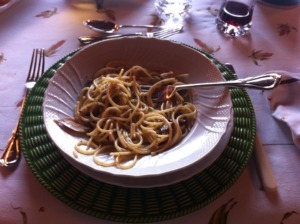 and I also had my favourite pudding  – Tiramisu: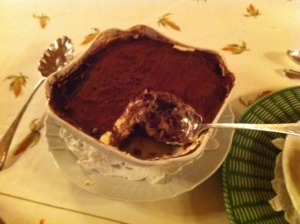 I was a bit worried that I might come back to London a lot fatter than when I left, but I discovered that there was a swimming pool in the grounds. I swam every day when the weather was good enough (although it turned out Adele didn't share my idea of what was good enough – she thought it was far too cold to swim and was worried I would get ill – so I had to swim secretly after that).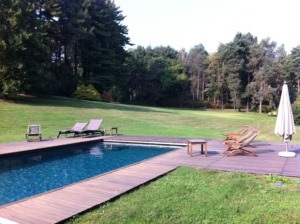 Despite not speaking a word of one another's language, Adele and I managed to communicate pretty well. I discovered a good way to do it was to write notes to her via google translate. The Italian words I said most often was 'grazie' (thank you) and 'prego' (you're welcome). I also learnt useful words like 'cinghiale' (wild boar) and 'zucca' (squash). Adele is an incredibly kind and generous person and she made a huge effort to make me feel so well looked after there. We spent a lot of time playing with Nina and Olivia, the two dogs to live at Il Boscoforte: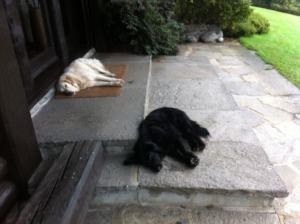 Adele told me that they had been rescued from a dogs home by Ilaria when they were little puppies. They were very thin and had been badly treated before they were rescued. They now live like queens in Il Boscoforte, where Adele looks after them and they have free reign of the grounds.
For my one outing from Taino we went to Varese, where I bought presents for my family. On the way back we drove around Lake Maggiore to visit Stresa, a beautiful town by the edge of the lake. Here is Adele by the lake. We only had a few minutes to walk around before it poured with rain.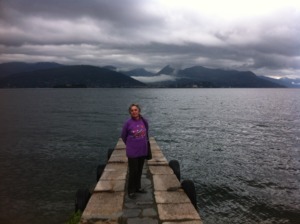 On my last evening I cooked dinner for Adele and Lucia to say thank you. In hindsight this was a slightly stupid thing to do, considering Adele is such a brilliant cook, but I thought it would be at least some way of showing how grateful I was. I cooked creamy broccoli pasta (broccoli in Italy looks very different from English broccoli) and made a salad, and they seemed to like it. Adele said she would call it 'Pasta a la Kate' and would cook it for Ilaria next time she was there, but I think she was just being polite.
Adele made Chiacchiere for pudding – a sweet pastry normally made for Carnival celebrations. If I do manage to visit again, which I would really love to be able to do, I've decided that I'm am going to ask Adele to teach me how to cook.