Of the highly varied benefits and pleasures of being a BBT award-winner (2005), one which will endure with much affection is the camaraderie amongst us musicians during the tour organised on our behalf with Christian Tetzlaff. We made for a very heterogeneous group of violins, cello, piano, mezzo and percussion, and as we trailed our way around Europe, great ties were established. It was highly engaging to hear and see what similarly placed artists were doing with themselves and their resources, and to have the time (that most cheated of commodities) to exchange ideas concerning our approaches to careers, giving concerts, repertoire and broader aspects of life. I was very struck by this opportunity and very grateful for it – another example of the Trust giving experience over-and-above the merely and more obviously practical.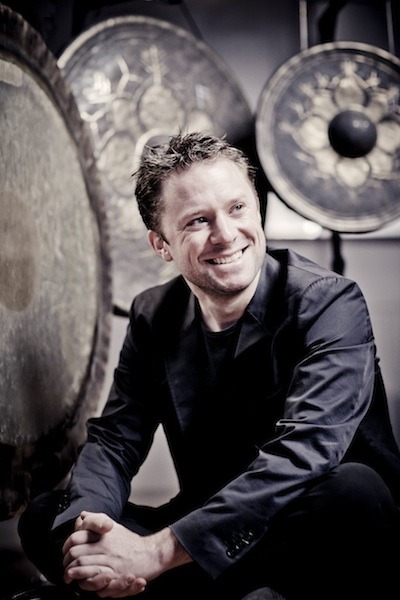 Colin Currie – Photo: © Marco Borggreve
I was invited to participate in the "BBT Celebrated" weekend, and, delightfully, what this broadly means for me is attending a series of varied chamber music concerts – towards which I look forward enormously – with some of the finest young musicians in classical music. I will also be offering my services at a Percussion Masterclass where I will work with three young players on core repertoire from the world of solo percussion. This celebration sits in the context of a blissfully busy season for me, with the (now usual) gaggle of premieres and foreign travel.
The diversity of my concerto literature continues to offer much promise, with key works added every few weeks, at the present rate (last year I premiered six highly distinctive works, each of exceptional quality). Happily, all of these will see repeat performances, and Kalevi Aho, Julia Wolfe, Elliott Carter and Dave Maric are my proverbial bread-and-butter. Musical toast never tasted so good! Since 2005, I have also developed my own ensemble, The Colin Currie Group.
We are establishing ourselves at a rate of knots as the flagship team for the music of Steve Reich, and are now working abroad, as well as in the UK. What is so enjoyable and rewarding about this project is the group spirit and collective drive to present this music at the highest possible level. Happily, our concerts have been embraced publicly by the composer, and he is now penning a new work for me, which is fantastically exciting. It premieres in 2014/15 in London, Paris, New York City and Cologne.
I'm also launching a new Solo Recital project, which is one of the most ambitious programmes I have yet to tackle. It will include a suite of new marimba works by Rolf Wallin, which looks promising indeed. Anna Clyne is also writing for me a work for Solo Drum-kit, Marimba and Pre-recorded sounds, and James MacMillan feels the time is right for a second Percussion Concerto. I couldn't agree more.
I'm often asked at classes I give about how I managed to forge a career as a solo-percussionist. This question is quite particular, as it has been rather different, I suspect, to making it as a solo pianist or violinist. However, I would give the same advice to any young musician, which is this: One. Step. At. A. Time. And the question of "Is Talent Enough?", for me it's a categorical "No". I'm still practising 7 hours a day.
Podcast: Listen to Colin Currie discussing the choices he's made and the challenges that face young musicians today.
Colin will participate in our debate "Is Talent Enough?" and will give a Percussion masterclass (free but ticketed) on Saturday 18 May, 2013 at the Queen Elizabeth Hall. For more information and to book tickets, visit our BBT Celebrated page.