An extraordinary week in the life of Susan Rivers, Chief Executive, BBT.
Part One. Monday 15th – Saturday 20th February 2010. London – Aldeburgh – Utrecht

Monday, 15 February

I spent the morning catching up on e-mails and trying to push various BBT artists' projects forward.
In the afternoon David Hoskins [BBT Special Projects Consultant] and I were allowed to creep into Maida Vale Studio 1 to listen to Mahan Esfahani (2009 winner) recording Martinu's Harpsichord Concerto with the BBC Symphony Orchestra and Jiri Belohlavek.  David is working on a video profile for Mahan, with our film-maker Graham Johnston, and assisting Mahan in putting a website together.  It was good, therefore, to catch up with him albeit briefly but I particularly went along because I was curious to hear a contemporary harpsichord concerto.  It is a very accessible and enjoyable piece.  It was interesting to see how a balance was achieved between the orchestra, piano and harpsichord.  Not so difficult in a studio environment but Mahan tells me that in live performances harpsichords nowadays are subtly amplified so it is not a problem and audiences are not even aware of it.
Tuesday, 16 February
I am frantically cramming in as much work as possible today before I go off on my travels later in the week.  In the evening David and I go to hear Colin Currie (2005 winner) at the Queen Elisabeth Hall with his Percussion Group performing Steve Reich's Drumming.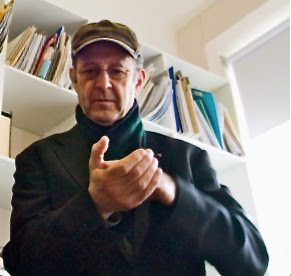 Wow – what an achievement Colin!  We so enjoyed it and it was great that another BBT winner was also taking part, namely Owen Gunnell of O Duo (2008 winners).  I had taken my ear plugs along as sticking your fingers in your ears is not a good look but past experience of 'percussion concerts' has alerted me to the fact that these concerts can be ear-piercingly loud sometimes.   All was well until the glockenspiels joined in but as it was towards the end I just managed to hold on…  Steve Reich and Colin gave an interview afterwards which was very revealing and informative.
It seems to me that Colin is becoming a sort of Elder Statesman of the percussion world as he is such a prolific commissioner (3 new pieces commissioned with BBT's help alone).
Meanwhile Debra Boraston [BBT's PR consultant] went off to the Wigmore Hall to hear Gautier (2004 winner) and Renaud Capuçon with Nicholas Angelich.  I heard the ensemble at a Wigmore Hall Coffee Concert on Sunday and thoroughly enjoyed the occasion.  It was great to catch up with Gautier and say hello to Renaud and Nicholas who works with one of our new 2010 winners Gabriele Carcano, of whom he spoke most highly.
Wednesday, 17 February
Off to Aldeburgh.  How I hate driving there.  It is roughly a three hour journey by car from West London and a good part of it is on the A12, my least favourite road in the British Isles.  Bumper to bumper lorries and mainly only two lanes.  Still I get there in good time with no mishaps.
I had a very interesting lunch with Bill Lloyd who has recently been appointed Director of Artist Development having been a producer with the  BBC Scottish.   I was there to discuss possible future residencies in Aldeburgh for our artists and it was helpful to know what his future plans might be.  It turned into a very creative meeting as other possibilities emerged.  I can't wait to follow them up.
In the evening I had a wonderfully inspiring meeting with the Aronowitz Ensemble (2009 winners) who were fulfilling their third Aldeburgh residency.  We had some really fruitful discussions about their future BBT projects.  Sometimes it takes a while to put ideas together but I think now we really have 'a plan'.
Thursday, 18 February
Manage to make a reasonably early start for the return journey to London, this time in freezing fog.  Again no delays but arrive home with stiff shoulders from having to concentrate so hard to see in the mist.
In the afternoon I went for a meeting at IMG's offices to see our really delightful trumpet player Tine Thing Helseth (2009 winner), who was over from Norway, to discuss some possible BBT projects including a promised new concerto to be written for her by Bent Sørensen.  It is the first time that we have had a BBT winner represented by IMG so it was a good opportunity to explain to them how BBT works and that we do more than simply hand over the money.
Friday, 19 February
Up at 5am to get myself to Heathrow to fly to Amsterdam for lunch with Charles Watts (husband of Aronowitz violinist Nadia Wijzenbeek), who is Artistic Director of the soon to be renovated De Bachzaal in Amsterdam.  He meets me in a vintage black Citreon – very glamorous.  We head off to meet with the General Manager of Bachzaal, Léon de Lange, and have a jolly brain-storming session where I give them the 'benefit' of all my years of promoting concerts.  They seem to find it helpful!  Unfortunately I don't get to see the Bachzaal because of works to remove asbestos but I can see from the outside that it is a very elegant 1930s building.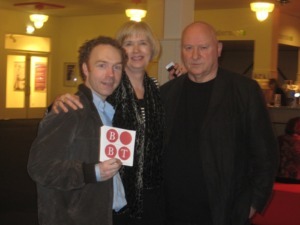 Then off to Utrecht by train for the world premiere of Gavin Bryars' Piano Concert The Solway Canal which we co-commissioned with the Netherlands Radio Chamber Orchestra for contemporary music specialist Ralph van Raat (2005 winner).  Ralph really understands this sort of repertoire and it turned out to be a very lyrical and moving piece with the addition of a male voice choir.
There was a standing ovation from an audience of around 600 (for an all contemporary programme) which was pretty impressive.  It would have been interesting to hear it again in a different acoustic.  David and Graham go to the concert at the Muziekgebouw in Amsterdam the next day, where a live recording of the piece was made for future release on Naxos.   They send back excellent reports.
Read Ralph van Raat's blog On Gavin Bryars' "Solway Canal"
In Part Two (Saturday 20th February – Monday 22nd February 2010), Susan travels North to Martin Fröst's Vinterfest, in Mora, Sweden.