Being a part of a performing ensemble is more than just showing up for concerts.  It's first and foremost about enjoying what one does, IMHO, something that depends, generally speaking, on whom you're doing it with. Our key to sustaining that joy, which is later transcended to our audience, is the connection that we have between us not only as musicians but also as people, as friends. When we are on tour our Trio becomes a family.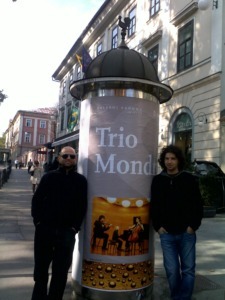 Back home, we each have our own families and businesses. We meet for rehearsals, but only when we have to learn new repertoire or get ready for an upcoming concert. The work of a trio is different than of a string quartet in the sense that it does not require rehearsing on a regular basis. This suits us quite well, I must admit, since we like to engage in other activities as well, and it keeps our meets fresh and spontaneous.
On tour, on the other hand, we spend all of our time together. We travel together, we are going out together to explore the places we are visiting (mainly shopping and dining facilities); we eat together and we like to celebrate a good performance with beer and wine, occasionally a cigar, together. I've heard stories about groups who detested each other so much they would never speak, other than what's necessary, and even make separate travel arrangements so they wouldn't have to tolerate each other's presence. Not for us, Muchas Gracias. We rather do something else than spend our life like this.  Above all, I feel that the synergy that's created between our musical and personal connections is what makes us who we are as a Trio.
Last night we ended a 7 day tour with performances in Slovenia, Italy and Spain. I've decided to name this tour "The Prison Break Tour" simply because this time Daniel, our violinist, has brought on his laptop the complete 4 seasons of the American TV series, whose twisted plot deals with breaking out of a prison. On this side of the millennium, soft-cover best-sellers which are historically consumed as entertainment on flights and train rides have evolved into trashy yet well produced American TV shows that people can watch on their laptops.
Daniel, who had already been addicted to "Prison Break" at the beginning of the tour, has managed to get our group's femme fatale hooked on it as well; Hila had previously seen Daniel glued to his laptop screen. She did not have a laptop of her own and could not watch the show like Daniel did on the plane to Ljubljana and on the train to Rome. Only in the hotel the two could meet and share the viewing experience by watching together and listening to the soundtrack thru the computer's internal loud speakers. Since buying a new laptop was not an option for her, Hila set herself to find a headphone jack splitter. On the 4th day of our tour Hila found the right gadget in Rome's airport. For the remainder of the trip the two could watch the show together any time they wanted.
Having the entire 4 seasons on the hard drive means 40 minutes times 22 episodes times 4 seasons, equals roughly 60 hours of viewing which, so it seemed, the two have set themselves up to complete by the end of the tour. I don't think they got even close to that. I believe they completed season one and some of season two. I must add they did offer me to join their viewing sessions at the hotel (where headphones were not needed). I have systematically refused for my own reasons. Nevertheless, I could not get away with being exposed to some of the shows images as they glowed from the laptop screen and to get an update occasionally on the plot's development and on some of the characters, specifically one convicted felon nicknamed "Tea-Bag".
Let me pause for a moment. I wouldn't like you to get the wrong idea about us. We are serious people who take our art and craft seriously. When we rehearse we get down to the finest detail and we try to perfect our interpretation and the execution thereof before and after every show. Music is a profound art form, and the smallest detail is of utmost importance to us, even if we realize that in real life the percentage of audience who is able to notice, understand and fully appreciate delicate nuances in a performance is quite small, even among members of an audience who are musicians. Frankly, it is a very hard thing to do – to be one hundred percent focused in a performance, undistracted by other audience members or by our own thoughts.
Nevertheless, that does not hold us back from trying to achieve our artistic goals as performers. Even if appreciated only by a few, audience is able, in a magical and difficult-to-explain way, to tell a good performance. This normally happens when the performance's flow is right. This is something we find very important in our delivery: when the music flows one can dive into the realm of fantasy that this abstract and hard to understand art form has to offer, undisturbed. But should the performance's flow break, whether it is because of tempo, balance or pure intonation, especially within a performance of otherwise high quality, it has the potential to stick out even to a not so educated crowd.
Going back to Tea-Bag…well if you're really curious to know what ended up happening with Tea-Bag you would have to watch the show yourself, I did not intend to write a spoiler.  Only reason I am mentioning the fellow is the fact that we like to make each other laugh about things, and one of the ways Hila and Daniel like to do that is by writing funny things in each other's part so when they flip a page they might notice the comment and consequentially break a smile. Audience sees that smile; even though they may not know the real reason, audience likes it when the performers smile occasionally. Of course, one should be careful not to write funny things in certain pieces; to do such thing in the score of Shostakovich's Trio #2 is really inappropriate. We'd never do that. Luckily not all the pieces in our repertoire are that serious.
Backstage, before the last concert of the "Prison Break Tour", I suggested to Daniel that since we were really occupied with the fictional character of Tea-Bag in the past few days, instead of writing a funny thing he should tape an actual tea-bag in Hila's part. Of course we didn't carry this out; it would have been a bit too much, but we did share this mischievous thought with Hila. We all had a good laugh about this and went on to play our last concert in a very good mood…
Ohad Ben-Ari