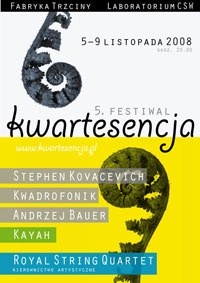 Time flies so quickly! It's been already two months since our festival – Kwartesencja took place and it seems to us like it was a week ago… And to think that it was already the 5th one is almost unbelievable. We've always dreamed of having our own chamber music festival, but this dream seemed so unreal and so distant. We thought it's too difficult for us to organize concerts. We had no idea how to do it and where to start. And here we are, celebrating the 5th anniversary of our Kwartesencja, already planning the next festival! We are so proud. Over the past few years we've managed to invite some wonderful artists – Angela Hewitt, Martin Fröst, Antoine Tamestit, Mark Padmore and Stephen Kovacevich to mention a few. And we've been very lucky with the audience. We've never expected our festival to grow to such an extent so it all makes us extremely happy. Of course we wouldn't have done it without help. The second festival almost didn't take
place, because of huge financial problems. But thanks to BBT we've been able to keep it going and it was for us the most important thing. So now we are looking forward to the next festival. Our heads are full of ideas concerning the program and artists we would like to invite. This year's Kwartesencja will take place in Warsaw between 5-8 November 2009 and in spite of all the hard work that is ahead of us we are all very excited about it.
See you at Kwartesencja 2009!
Elwira Przybyłowska