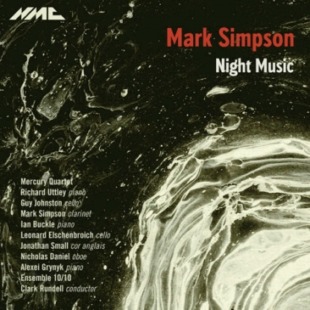 Press release date: February 2016
Mark Simpson's Debut Disc for NMC
Premiere Recordings
MARK SIMPSON – Night Music
Night Music (2014)
 – Leonard Elschenbroich (cello), Alexei Grynyuk (piano)
Ariel (2009)
 – Mercury Quartet  
Barkham Fantasy (2009)
 – Richard Uttley (piano)
Echoes and Embers (2012)
 – Mark Simpson (clarinet), Víkingur Ólafsson!(piano)
Lov(escape) (2006)
 –  Mark Simpson (clarinet),  Ian Buckle, (piano)
Windflower (2013)
 – Nicholas Daniel (oboe)                                                                 
Un Regalo (2004)
 – Guy Johnston (cello)
Nur Musik (2008)
 – Ensemble 10/10/Clark Rundell, Jonathan Small (oboe)  
In May 2016 NMC is releasing a portrait CD, Night Music, to profile the work of 27-year-old composer Mark Simpson featuring a collection of chamber music pieces recorded by the musicians and ensembles for whom they were originally written.
Among the performers are Ensemble 10/10 with Clark Rundell (the contemporary music group of the Royal Liverpool Philharmonic with whom Mark has a long relationship, having first been commissioned by them when he was 15), the Mercury Quartet, cellists Leonard Elschenbroich and Guy Johnston, pianists Ian Buckle, Alexei Grynyuk, Víkingur Ólafsson and Richard Uttley, and oboists Nicholas Daniel and Jonathan Small, as well as Mark himself on clarinet.
Mark's works are most often inspired by dark tones and atmospheres of loss, dreams, hauntings, intimacy and passion and, as with Night Music and Echoes and Embers, often embrace ambiguities of emotion and attitude with extremes of quietude and agitation, of fragility and power. His pieces are also his own musical response to poetry (Sylvia Plath's Ariel, Ted Hughes' Tales from Ovid for Windflower) or the mysteries and resonances of place (Barkham Fantasy whose genesis harks back to an eerie farmhouse on Dartmoor, and Nur Musik written during a stay in Berlin).
Most recently Mark's commissions have been on a much larger scale: 2015 saw the world premieres of Israfel for BBC Scottish Symphony Orchestra and The Immortal oratorio for Manchester International Festival, while his first chamber opera, Pleasure, debuts on 28 April 2016 for Opera North/Royal Opera/Aldeburgh Music.  For the NMC CD he has relished the opportunity to look back on, and lay bare, his smaller scale works and take the finely tuned, meticulous approach that the recording studio can provide.  
As a champion of contemporary music and supporter of aspiring young composers, NMC is a well-matched partner for the Borletti-Buitoni Trust which has helped finance the recording as part of Mark's 2014 BBT Fellowship Award. BBT is also commissioning a new solo clarinet work for Mark, by Mark, which will be filmed and premiered later this year.  
 MARK SIMPSON
* First-ever winner of both the BBC Young Musician of the Year and BBC Proms/Guardian Young Composer of the Year competitions (in 2006 age 17)  
* Studied at Royal Northern College of Music, Oxford University  and Guildhall School of Music and Drama  
* As a clarinettist made Wigmore Hall debut at 17 and has appeared as soloist with Royal Liverpool Philharmonic, BBC Philharmonic, BBC National Orchestra of Wales, BBC Symphony Orchestra and Northern Sinfonia  
* As a composer has written commissioned works for BBC Symphony Orchestra, Royal Liverpool Philharmonic Orchestra, National Youth Orchestra and Britten Sinfonia  
* Appointed Composer in Association with BBC Philharmonic 2015-19  
* His music is published by Boosey  & Hawkes
* He won a BBT Fellowship in 2014
Thanks to RVW Trust and City & Cambridge Consultancy for supporting this recording which is part of NMC's  Debut Discs Series.  The Series is supported by The Astor Foundation, The Boltini Trust, The John S Cohen Foundation, Colwinston Charitable Trust, The Fenton Arts Trust, Nicholas and Judith Goodison Mercers' Charitable Foundation, Stanley Picker Trust, The Radcliffe Trust, RVW Trust, The Richard Thomas Foundation, Jennifer Roslyn Wingate, plus individuals who donated through The Big Give Christmas Challenge.  
www.nmcrec.co.uk/debut-discs/funders
FURTHER PRESS INFORMATION:  Debra Boraston
T. 01424 883307
M. 07989 434388
E. debra@henrymoorestudio.co.uk