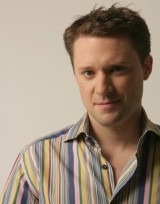 Press release date: July 2007
Dave Maric – "Composer In The Court Of King Currie"
Colin Currie won his Borletti Buitoni Trust Award in 2005 and has used it most productively towards new commissions, a major recording project and his first personal website www.colincurrie.net
As a percussionist Currie is a keen commissioner of new work, equally ambitious for the concerto repertoire and the smaller, more focused collaborations he initiates with other musicians. He has been commissioning works from composer Dave Maric over the last seven years: the first, Trilogy, he has played over 50 times (more than any other piece in his repertoire) and has gradually enlarged his portfolio of Maric pieces to the point where putting them all on a CD became a personal quest.
His BBT award has enabled him to do this: Borrowed Time, is released on Onyx Classics in August 2007, the same month that Currie performs James MacMillan's Veni Veni Emanuel as part of a special late night Proms concert in tribute to Sir John Drummond (Prom 44 on 16 August).
Currie has also used his BBT award to support three commissions – from Lukas Ligeti, a concerto from Simon Holt which will be premiered in 2008 and the latest Dave Maric work, and Lucid Intervals for percussion and trumpet (Håkan Hardenberger) which appears on the CD.
Watch a short film on www.bbtrust.com/audio_video/ for more insight into the making of this CD including interviews with Colin Currie and Dave Maric.