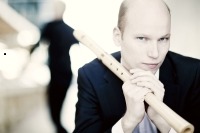 Press release date: June 2011
Erik Bosgraaf and the Stradivarius of Recorders
The recorder, around since medieval times and at its peak in the baroque era,
has become an instrument for the 21st century in the skilled hands of master
maker Ernst Meyer. Shot in Amsterdam and Paris, this film succinctly shows Erik
Bosgraaf's virtuosity, musicianship and passion, alongside the mastery and magic
of Meyer in the workshop where he refines the new instrument that BBT has
funded. With improved strength of sound and tone, the recorder is now a
candidate for modern repertoire in symphonic halls; indeed, the commissioning of
a new recorder concerto is the next BBT project for this imaginative and
evangelistic young musician!