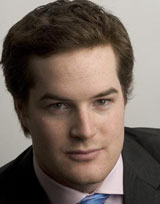 Press release date: May 2006
Borletti-Buitoni Trust Connections. Verbier Festival & Academy 2006
The new Borletti-Buitoni Trust Chamber Music Programme being launched this year at the Verbier Festival Academy features 2006 BBT fellowship winners, the Italian David Piano Trio and British baritone Ronan Collett, both of whom will participate in the Programme's masterclasses which run throughout the Festival (18 July-6 August). The Chamber Music Programme will be led by the violinist and founder of the Takács Quartet, Gábor Takács-Nagy.
Another Borletti-Buitoni Trust connection materialises on the main Festival programme on July 31st with the world premiere of two new works for trumpet and percussion commissioned by British percussionist Colin Currie with his 2005 BBT Award*. The two pieces are composed by Markus Ligeti and Dave Maric and will be performed by Currie with Håkan Hardenberger as part of a programme also featuring works by composers Takemitsu, Börtz and Jolivet.
2003 BBT award winner, Swedish clarinettist Martin Fröst will also be performing at the Festival on 3 August in recital with pianist Julien Quentin in a programme featuring Schumann, Poulenc, Debussy and Högberg, and on 4 August with Alexei Ogrintchouk (oboe), Joseph Anderer (horn) and Leif Ove Andsnes (piano) in Mozart's Quintet for piano and winds in E flat major K 452.
"Our association with the Verbier Festival Academy is part of The BB Trust's aim to help our winners further develop their contacts in the international music arena", comments Ilaria Borletti-Buitoni, founder of the BB Trust. "They are all so keen to continue learning and developing new ideas that we feel it is just as important to open up new doors to collaboration and performance, as to fund their individual projects. Such a prestigious venue as the Verbier Festival Academy is a wonderful opportunity."
* Colin Currie is also commissioning a new work for percussion from Simon Holt for 2007 with his BB Trust Award.