The residency in Aldeburgh last August has been an amazing opportunity for the Dudok Quartet, soprano Michaela Riener and myself to explore the depth of the material of our latest project by the name of The Rape of Artemisia. Inevitably Benjamin Britten's spirit is everywhere: not only the opera The Rape of Lucretia comes into mind but also the range of recorders Britten had in possession and which are still at display in The Red House.
What is our project about? Well, Artemisia Gentileschi was a painter from the time of Caravaggio and my attention to her and her biography was spiked by an article about her in The Guardian. Not only was she a marvellous painter but being a professional female painter in the 17th century was also something special. When reading more about her I was shocked to find that she was raped and went to trial for it (in which she was tortured). But most interestingly, she perfected the art of revenge in her works: visceral depictions of the John the Baptist's decapitation become very personal when one realises that Artemisia has put the head of her perpetrator Tasso on the silver plate…
When speaking with the Dudoks and Michaela we immediately saw the explosive potential of a staged concert around this theme. None of us wanted to make things too explicit (no opera!) but instead we wanted to focus on the power of music to convey different emotions: not only is the music from Artemisia's time full of painful dissonances, it also provides wonderful compositional material in which our rather treble sided sound palette creates incredible sonic nuances.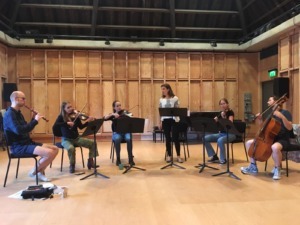 Nevertheless, something essential was lacking: we didn't want to give a purely historical account of the events and artistic life of Artemisia especially not after the recent wave of #metoo accusations. However, (reworked) music from Art
emisia's time like Gesualdo seemed appropriate and added more than merely a couleur locale. But one cannot deny it was never written to reflect our times, in other words: we desperately needed composers!
After much deliberation we were fortunate to find composers Josephine Stephenson and Antti Auvinen willing to join our project and much of the residency in Snape Maltings was focused on how to integrate all of these explosive elements into a compelling musical narrative. Luckily we were assisted a lot by director Dan Ayling and the audience at our try-out. Their immediate feedback felt on the one hand premature, since we were still in the process of creating but on the other hand extremely helpful in crystallising our thoughts about Artemisia.
We are extremely grateful for the BBT in helping us realise this residency and also look back on a very nice dinner with to our mater familias Susan Rivers, who also came to watch the performance.
We will keep you updated as we move forward with this project! Thanks for reading and hope to see you all of you on our performances!